The study permit must be valid for the duration of your studies. It can be renewed from Canada.
You can apply online or submit a paper application.
Since you will need to give your biometric information in person, simply fill out a paper application and then go in person to the Visa Application Centre (VAC) in your area.
APPLY
Visit web page Study permit: How to apply
Your country's Canadian visa office provides instructions

Other countries than France: read our advice
What to know before you apply
You must use your admission letter available in your HEC online, even if it is conditional.
The designated learning institution number for HEC Montréal is O19359011058.
All study permit applicants must provide biometric information.
There are no specific rules from the Canadian government for students who are between 17 and 18 years of age. However, some additional documents may be required.
If your program has a mandatory internship component, we strongly recommend that you apply for a work co-op permit and study permit at the same time. An admission letter mentioning your internship is required.
Most international students will need a Temporary Resident Visa (TRV) or an Electronic Travel Authorization (eTA). These documents are issued at no charge at the same time as your study permit.
Your partner or spouse might be eligible for an open work permit in Canada. For more information, go to the Setting up your family page.
It is not necessary to retain the services of an immigration consultant. If you decide to hire one, fill out the use of a representative form for your protection.
CHECK ON PROCESSING TIMES
Go to the Government of Canada website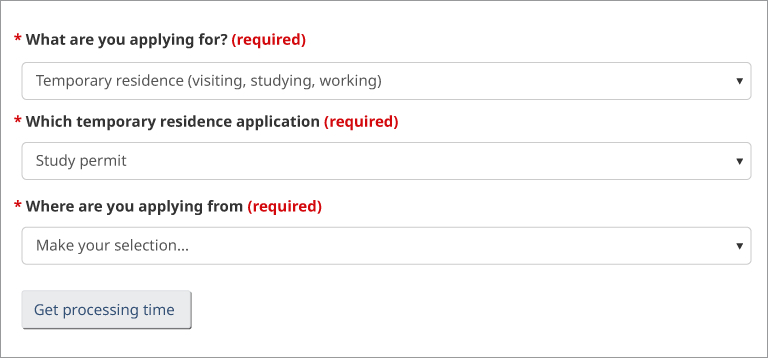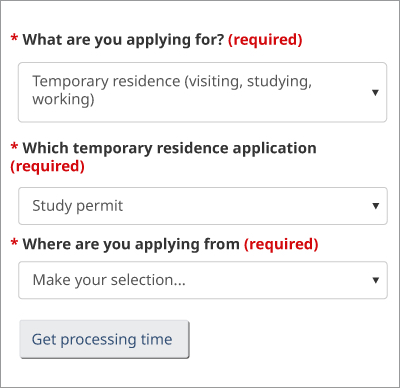 After submitting your application
Once your application has been accepted, you will receive a letter of introduction by email. Take a printout of this document before leaving your country. This letter is not your study permit; you will obtain your study permit once you enter Canada.
Sign up for Accueil Plus, a free welcoming service for international students: As part of the service, the Canada Border Services Agency (CBSA) will be able to issue your study permit in advance. This will speed up your passage through customs.
Refugees and asylum seekers
Students seeking asylum or refugee status in Canada are considered international students, since they are neither permanent residents nor Canadian citizens. They need to request a free study permit.
To pursue their studies, they will need to provide the following documents:
A valid Quebec Selection Certificate (CSQ) issued by the Ministry of Immigration, Francization, and Integration (MIFI). Refugees who do not have the CSQ must apply for a Quebec Acceptance Certificate (CAQ). Their tuition fees will be the same as those paid by Canadians.
A letter from the Immigration and Refugee Board of Canada (IRB) attesting to their acceptance as a Convention refugee.
---
Need help?
Email us at sae.accueil@hec.ca.
---
This online summary, dated February 27, 2019, holds no official standing. Changes may occur without notice. Quebec laws and regulations, as well as information emanating from the Ministère de l'Immigration, de la Francisation et de l'Intégration, and Immigration, Refugees and Citizenship Canada, take precedence over this document.