BBA delegation finishes 2nd in Mexico
BUSINESS AND MANAGEMENT CASE COMPETITION
November 13, 2023
For the second year in a row, the HEC Montréal student delegation won 2nd place at the 3rd Business and Management Case Competition (BMCC) held by Universidad Panamericana – Guadalajara campus, in Mexico, from October 29 to November 4.
The team, comprising four BBA students, Noémie Nantel, Léo Piché, Philippe Tremblay and Amélie Vachon was accompanied by Professor Anne Bourhis, Academic Director of the University Competitions Service.
The group received excellent advice from their coaches, Benoit Comeau, Julien Galisson, Clément Leclerc, and Jacques Lemay, who are also helping them prepare for the next Jeux du Commerce.
16 delegations, 3 rounds and 4 finalists
In the qualification rounds, 16 delegations from all over the world competed against one another in three cases:
1 before the competition (in 1 week)
1 4-hour case in mixed teams (4 students from 4 different universities)
1 24-hour case
The School team finished 1st in its division and then faced off against 3 delegations in the final round, from the universities of Florida, Vermont, and Simon Fraser University.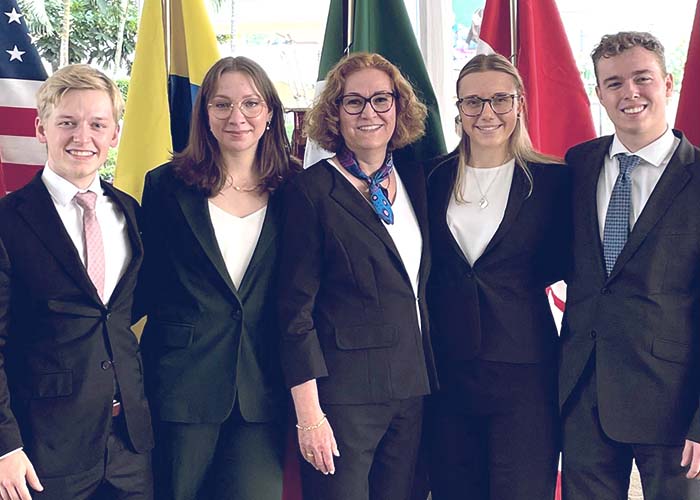 From left to right: Philippe Tremblay, Noémie Nantel, Anne Bourhis, Amélie Vachon, Léo Piché
The University Competitions Service would like to thank the HEC Montréal Alumni Association for its generous financial contribution.
More information is available in the following links: