Third podium in a social responsibility and sustainability competition
Net Impact Sustainability Challenge
June 1, 2021
A team of HEC Montréal MBA students took 3rd place in the SFU Net Impact Sustainability Challenge, reaching the podium for the 3rd time this year in a world-class case competition.
The School has now made its mark in the 3 main Canadian competitions revolving around social responsibility and sustainability this year, after winning the CSR Challenge and the Accounting for Sustainability Project International Case Competition.
Our Emerald team, consisting of Ashokan Ashita, Francisco-Jose Garcia-Solorzano, Wui-Man Kwok and Manoj Subramaniam, skilfully took on the challenge handed them in the final round of the SFU competition.
The case to be solved concerned the Telus telecommunications company. Participating teams had to come up with a strategy for improving its goods and services so that it could make a positive contribution to climate justice.
Emerald's plan concerned the Canadian communities hardest hit by climate change, in particular in Nunavut. The strategy was intended to give all Canadians access to telecommunications services, even during the most severe disasters.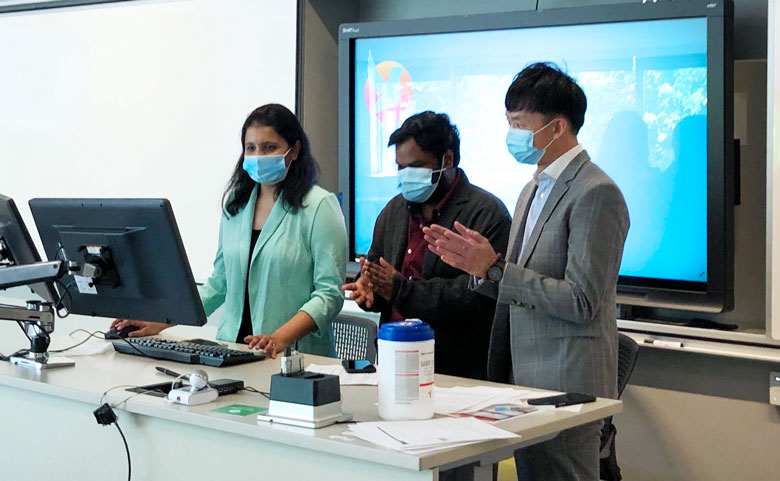 Ashokan Ashita, Manoj Subramaniam and Wui-Man Kwok. Absent: Francisco-Jose Garcia-Solorzano.
The competition was organized by the Beedie School of Business at Simon Fraser University (SFU), in British Columbia. All in all, 17 teams from different universities across the country competed in the 1st round, and 5 in the final round.
Note that Jean-Michel Champagne, a Lecturer who serves as Sustainable Development Co-ordinator at HEC Montréal, coached the Emerald team from start to finish.