SFU Net Impact Sustainability Challenge competition: HEC Montréal takes the top spot
April 13, 2023
A delegation of HEC Montréal students celebrated a well-deserved victory at the finals of the SFU Net Impact Sustainability Challenge case competition in Vancouver, on March 31 this year.
The team of students, which represented the school brilliantly by finishing at the top of the podium after months of hard work, consisted of Vincent Cadorette, Karima Cherifi, Étienne Massicotte and Quincy Ross, who are all pursuing a Maîtrise en management et développement durable (Master's degree in Sustainable Development Management). They were coached by Jean-Michel Champagne, Sustainable Development Co-ordinator, and Lecturer at HEC Montréal. The 2nd and 3rd places went to the Canadian delegations from University of Victoria (UVic) and University of British Columbia (UBC), respectively.
Cette compétition internationale axée sur les enjeux de durabilité est organisée par la Beedie School of Business de l'Université Simon Fraser, en Colombie-Britannique. Elle regroupait cette année 24 équipes universitaires dans le but de solutionner un cas présenté par Teck Resources, une compagnie minière canadienne.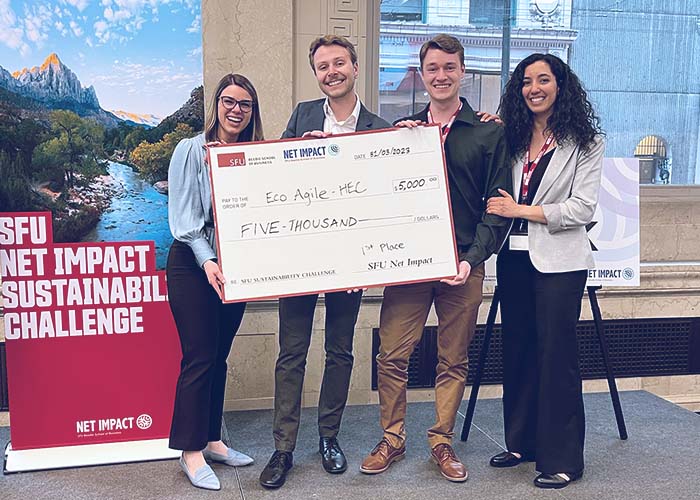 Our EcoAgile team: Quincy Ross, Vincent Cadorette, Étienne Massicotte and Karima Cherif.
The teams had to develop a plan to restore thrice the size of natural areas that get destroyed during mining operations, in order to actively participate in the restoration of nature and biodiversity. The HEC Montréal team, named EcoAgile, impressed the panel of judges with its bold proposal that argued in favour of assessing the return on investment according to the social and environmental value of natural ecosystems.
The School's University Competitions Service would like to thank all the experts who contributed to the training and preparation of the student delegation, as well as the HEC Montréal Alumni Association for its financial support.