Kudos for a Paper on IT-related Multitasking Co-authored by a Team from HEC Montréal
Best paper of 2021 in the academic journal AIS THCI
January 26, 2023
A paper in which several HEC Montréal researchers collaborated won the best paper award of 2021 in the scholarly journal AIS Transactions on Human-Computer Interaction. The winning paper is entitled Multitasking with Information Technologies: Why Not Just Relax?
This paper is a collaborative effort between HEC Montréal and its research partner D-BOX (a haptic technology company), as part of a research project funded by the Natural Sciences and Engineering Research Council of Canada (NSERC). This is also the first time that a paper produced with an industry partner has won an award from the AIS.
Its co-authors are Armel Quentin Tchanou, Assistant Professor at Université de Sherbrooke and PhD graduate from HEC Montréal, Pierre-Majorique Léger, Professor at HEC Montréal, Sylvain Sénécal, Professor at HEC Montréal, Félix Giroux, PhD student at HEC Montréal, Jean-François Ménard, Vice-President, Products, User Experience at D-BOX Technologies, and Marc Fredette, Professor at HEC Montréal.
Interestingly, the award was presented to Armel Quentin Tchanou by Constantinos Coursaris, Associate Professor at HEC Montréal, who acted as a representative of the AIS. The award ceremony took place in the wake of the International Conference on Information Systems in Copenhagen.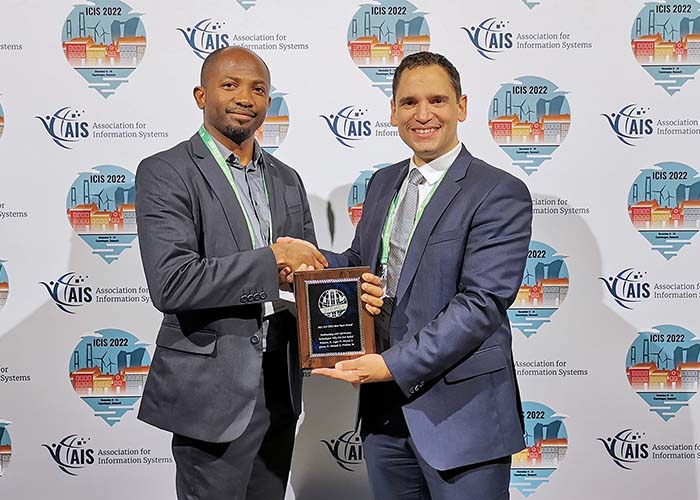 Award recipient
Armel Quentin Tchanou
with
Constantinos Coursaris
, Associate Professor at HEC Montréal and AIS representative.
About the paper
Using psychophysiological and psychometric measures of emotion, cognition and behavior, this paper contributes to understanding the actual experience of users when they multitask during hedonic relaxation activities.
The results of this research can be used by D-BOX to further promote its business to its customers and to guide its teams in the context of operating its new haptic devices.
Find out about the authors :