HEC Montréal excels at the i3c Ivanhoé Cambridge Challenge
1st and 2nd places in this new interuniversity competition
February 2, 2023
On January 27, two student teams from HEC Montréal stood 1st and 2nd in the i3c Challenge, a new Ivanhoé Cambridge interuniversity competition:
Islam Abdelatif and Alexandro Tomassi (MA in Law [LLM] – Tax option), Félix Poirier (Bachelor of Business Administration [BBA] – Applied Economics, Finance and Mathematics)
Remy Arnou (BBA – Finance and Business Analytics), Félix Laporte-Blackburn (BBA – Finance) and Sarah Poudrier (BBA – Business Intelligence and Accounting)
They won cash awards of $12,000 and $9,000 respectively.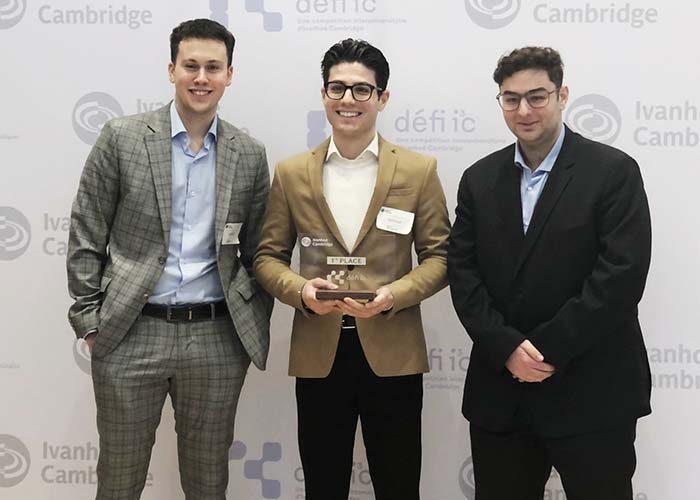 Félix Poirier, Alexandro Tomassi and Islam Abdelatif.
Félix Laporte-Blackburn, Remy Arnou and Sarah Poudrier.
Shaping real estate investment in the cities of tomorrow
This is the first time that the subsidiary of the Caisse de dépôt et placement du Québec has joined forces with the academic community to propose a challenge combining finance and data analysis by intersecting 4 pillars: real estate investment, innovation, interuniversity, and community (i3c). This 1st edition of the competition was only open to students of HEC Montréal and Université Laval Faculty of Business Administration.
The participating teams had 3 months to carry out quantitative analyzes in order to answer the following question: "How can we identify the cities and places of tomorrow?" Through a report submission and a 10-minute presentation to a jury, they had to demonstrate how these innovative areas are driving the return on our future investments, while driving sustainable development.
The 2 winning delegations from HEC Montréal stood out for their proposal of a dynamic predictive model allowing Ivanhoé Cambridge to modify the parameters according to its strategies.
The School's University Competitions Service would like to thank Ivanhoé Cambridge for organizing this competition, faculty members Michèle Breton, Justin Leroux, and Jean-François Plante for coaching the teams, as well as the Alumni Association and the Fonds Leadership for providing continued support for the activities.
Learn more: