HEC Montréal clinches 3rd place at the Symposium GRH
November 23, 2022
HEC Montréal's delegation has finished 3rd overall at the Symposium GRH, just behind the Université de Sherbrooke (1st) and Université Laval (2nd).
Eastern Canada's most important student competition in the field of Human resource management (HRM) took place from November 11 to 13, this year. HEC Montréal was the host.
Podiums
HEC Montréal's student community achieved exceptional results in the following events:
1st place: Sports
2nd place: Case – HRM
2nd place: Participation
2nd place: Quiz
3rd place: Case – Crisis management
Members of the delegation
The event was attended by 32 HEC Montréal Bachelor of Business Administration (BBA) students, along with 9 coaches.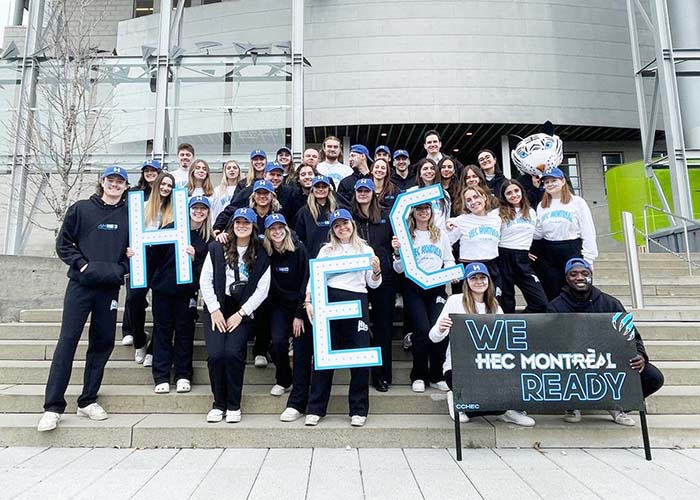 The HEC Montréal's delegation at the 2022 Symposium GRH.
category

members

coaches

Case – Crisis management

Sarah Bernèche

Clara Deloras

Camille Gonthier

Othon Léon

Case – HRM

Alexandra Beaudoin

Anna Boyko

Camille Brisson

Anne Bourhis

Case – HR marketing

Sandrine Bélanger

Alexane Ménard

Sofia Rivet

Caroline Boyce and Laura Parent

Change management

Louise Dominguez

Éléa Legros

Klara Vaillancourt-Neuwirth

Dominic Gagnon

Collective agreement negotiation

David Casaubon

Gonzague De Cordon

Sara Tessier

Vincent Pasquier

Quiz

Jérôme Fortin

Camille Primeau

Anna Soligny

Joanie Rolland and Alison Lessard

Sports

Audrey Mondor

Catherine Breault-Germain

Justine Bouchard

Victoria Gilbert

Philippe Dionne

Julien Poupard

Vincent Tremblay

Alexis Dupuis

François Guimont

Participation

Emmanuelle Julien

Justine Roy

Philippe Drolet

Roxanne Routhe
Sponsor of the delegation: Djammy Charles
Coordinator: Jude Gagnon
The University Competitions Service wishes to thank the organizing committee of the 2022 edition, as well as the HEC Montréal Alumni Association for its financial support.