HEC Montréal bags 2nd place at the 2022 Financial Open
February 9, 2022
The HEC Montréal student delegation performed impressively during the 2022 Financial Open on February 4 and 5, finishing 2nd overall. Not only did it excel in several events, but it also stood out for its exemplary attitude in the competition.
Incidentally, this quality earned the delegation 1st place for professionalism, a commendation that the Organizing Committee of the event decided to award for its overall performance throughout the weekend.
In yet another acknowledgement of the qualities of our delegation, its co-ordinator, Maya Furrier, was named co-ordinator of the year.
The Financial Open is the largest inter-university competition in finance and accounting in Canada. This year, it was organized by UQAM's School of Management (ESG UQAM). Around 350 participants from 10 universities took part in this event.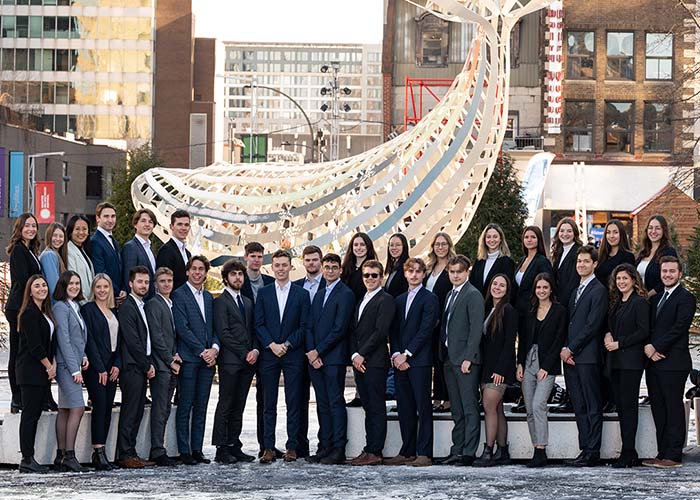 HEC Montréal delegation at the 2022 Financial Open.
Main results of our teams
Discipline

RanK

Surprise Case

3rd

Managerial Accounting

1st

Corporate Finance

1st

Market Finance

3rd

Personal Financial Planning

2nd

Stock Exchange Simulation

3rd

Professionalism

(criterion evaluated throughout the event for all delegation members)

1st
Delegation Members
Surprise Case: Ève Ehouarne, Cassandra Fortin, Audreyane Girard, Amélie Vachon.
Coaches: Anne Bourhis and Jean-François St-Pierre
Managerial Accounting: Gabrielle Gignac, Rosalie Handfield, Maïté Larouche.
Coach: Céline Gemmel
Financial Accounting: Vincent Boily, Anne-Sophie Desforges, Anne-Sophie Dumas.
Coach: Sébastien Chung
CFA Ethics: Mallory Godue, Marika Grenier, Thomas Jodoin-Galarneau, Rujing Li, Una Rathgeber.
Coach: Pierre St-Laurent
Corporate Finance: Benjamin Couture, Gabriel Drapeau-Zgoralski, Guillaume Fraticelli.
Coach: Shady Abou-Enein
Market Finance: Thomas Chamberland, Jacob Connolly, Arianne Leblanc.
Coach: Pierre Saint-Laurent
Taxation: Jonathan Bastien, Juliette Cusson, Louis Deschênes.
Coaches: Anthony Provencher and Simon Vallières
Personal Financial Planning: Jean-Philippe Adam, Benjamin Boisvert, Alexis Garneau.
Coaches: Xavier Dufour and Jonathan Gélinas
Quiz on Financial News: Louis-David Lafontaine, Audrey Mondor, Camélia Whittick.
Coach: Maxime Gagnon
Stock Exchange Simulation: Frédéric Lasnier, Ulysse Lindsay, Charles-Étienne Pilon, Matis Gamache.
Coach: Maya Pelletier
The University Competitions Service wishes to thank the HEC Montréal Alumni Association for its financial support, as well as all those who took part in the preparation of the delegation teams