Financial Open Cup: HEC Montréal 3rd overall
February 4, 2021
The HEC Montréal student delegation competing in the 2021 Financial Open Cup turned in an excellent overall performance last weekend, earning them third place.
The largest interuniversity competition in finance and accounting in Canada was organized by HEC Montréal this year and was held entirely online. It brought together about 300 students from 8 universities.
The 2021 edition was also one of the most prolific for the School in terms of the number of successes in different events. Our students reached the podium 8 out of 11 times.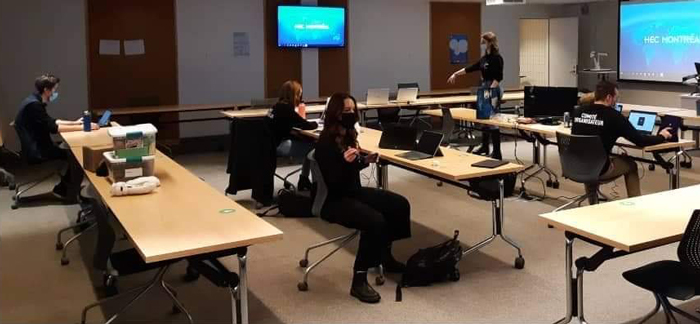 The videoconference system operators for the 2021 Financial Open Cup, at HEC Montréal.
Discipline

Rank

Surprise Case

1st

Management Accounting

2nd

Financial Accounting

1st

CFA Ethics Challenge

3rd

Market Finance

1st

Taxation

2nd

Stock Exchange Simulation

1st

Professionalism

(evaluated throughout the competition for all delegation members)

3rd
Delegation members
Surprise Case: Charles-Étienne Carrier, Anne-Sophie Desforges, William Huard
Coaches: Sylvain Amoros, Anne Bourhis
Management Accounting: Arthur de la Brosse, Guillaume Fraticelli, Maude Dorval
Coach: Céline Gemmel
Financial Accounting: Chloé Tremblay, Gabriel Trudeau-Champoux, Lucie Zardarian
Coaches: Sébastien Chung, François D'Anjou, Sonia Molleyres
CFA Ethics Challenge: Thomas Chamberland, Gabriel Drapeau-Zgoralski, Yacine Ndiaye, Jérôme St-Pierre Alain
Coach: Pierre Saint-Laurent
Corporate Finance: Élodie Gauthier, Eugénie Lemieux-Martin, Louis Pichet
Coaches: Jacques Lemay, Shady Aboul-Enein
Market Finance: Benjamin Abou, Yohan Colombe, Simon Constantineau
Coach: Pierre Saint-Laurent
Taxation: Aurélie Fournier-Morand, Carole-Anne Leblanc, Marie-Pierre Richard
Coaches: Anthony Provencher and Simon Vallières
Personal Financial Planning: Antoine Bériault, Alison Lessard, Félix Milot
Coaches: Xavier Dufour and Jonathan Gélinas
Financial News Quiz: Jade Bergevin, Arianne Leblanc, Maya Pelletier
Coach: Isabelle Bibeau
Stock Exchange Simulation: Guillaume Hinse, Cédric Listes, Charles-Olivier Matton, Amanda Turcotte-Gonzalez
Coach: Louis Pichet
Co-ordinator: Charlène Grept
Ambassador: Joanie Rolland
Accompanying the delegation: Anne Bourhis
The inter-university competitions department wishes to thank all the professors, coaches, students, alumni and School employees who helped prepare the teams for the 2021 Financial Open Cup.