Alycia Brodeur-Charron and Emmie Grégoire-Salmon are finance stars
AFFQ Relève awards
May 6, 2021
HEC Montréal students Alycia Brodeur-Charron and Emmie Grégoire-Salmon won 2 of the 4 Relève awards from the Association of Québec Women in Finance (AFFQ).
The awards will be presented officially on May 27, at a virtual edition of the Gala des Talentueuses, held to salute women transforming the financial industry. In addition to the Relève awards, Quebec businesswomen will be honoured with a number of other distinctions.
The winners of the Relève awards are chosen following analysis of the candidates' backgrounds, after they have been pre-selected by their educational institutions. The criteria and weighting are as follows:
Academic excellence (40%)
Achievements (25%)
Leadership aptitudes (15%)
Awards, distinctions and recognition (10%)
Quality of the entry for the award (10%)
The awards come with a 12-week internship at a Quebec financial institution:
Alycia will handle 2 mandates for Desjardins – a market study on the services of settlement agents in Canada, and sales and services to businesses.
Emmie will join the risk management team at the Caisse de dépôt et placement du Québec.
Alycia Brodeur-Charron: always seeking challenges
In her final year of the Bachelor's in Business Administration (spring 2021 cohort of the bilingual BBA, Honor track), Alycia has maintained an exceptional cumulative GPA of 4.22/4.30. She was also on the 2019-2020 honour roll of the program.
Right from her 1st year at the School, she showed great interest in the world of finance. "It's a field that corresponds perfectly to many of my interests: current events, economics and mathematics," she says. "What's more, I love challenges and getting out of my comfort zone, and it's a very stimulating field, constantly changing."
One of the challenges she set for herself when she came to HEC Montréal was to push herself and seize the opportunities that came her way. So she put in all the hard work necessary throughout her BBA, and was also heavily involved in the student community, in particular organizing the Income Tax Clinic offered by the Société de relations d'affaires (SRA).
She received 4 scholarships in 2020 and 2021: a Women in Finance scholarship from the Caisse de dépôt et placement du Québec, a Jean-Louis Mercier scholarship, a merit scholarship from the National Bank, and a Leadership scholarship from the HEC Montréal Foundation.
She will be completing her BBA in May this year, and will start a Master of Science (MSc) in Finance in the next term, as well as serving as President of the SRA for the 2021-2022 school year.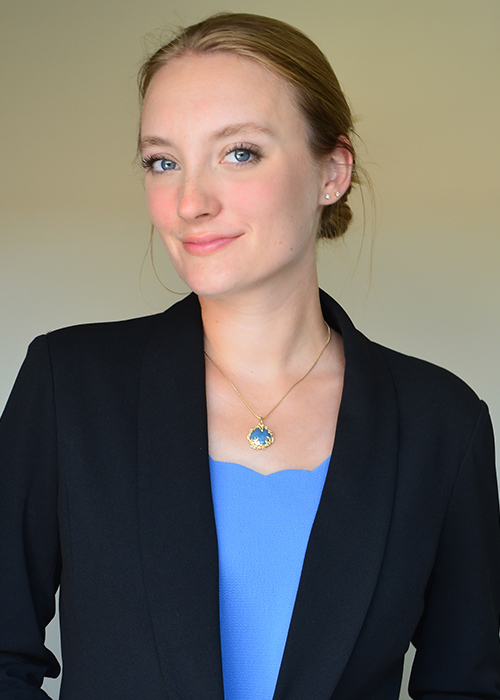 Emmie Grégoire-Salmon: achieving her ambitions
Just entering her 20s, Emmie started by completing a Bachelor's degree in industrial engineering, but always remained very interested in finance. So it made sense for her to continue her studies with a Master of Science (MSc) in Financial Engineering at HEC Montréal.
"I'm a natural leader, and I was looking for a university program that would give me the means to achieve my ambitions," she explains. "I quickly saw the benefits of having a woman in a team made up mainly of men, and I wanted to be that vector of change and contribute to creating a context open to diversity and inclusion."
In 2019-2020, she was President of the HEC Montréal Management Consulting Club, continuing her path to leadership that she had already undertaken as the 1st woman President of the Polytechnique Montréal Management Consulting Committee. She is now the head of the HEC Montréal Data Science Committee, helping to create the 1st artificial intelligence and data science hub applied to the business world and the student community.
In addition to a mention of excellence for her Master's, she received a Profil de Vinci award from Polytechnique Montréal (2019), an Excellence in Science award from the Ministère de l'Éducation et de l'Enseignement supérieur du Québec (2019), a Lieutenant-Governor's Youth Medal (2014), and 2 Governor General's Medals (2014 and 2012).
After earning her MSc in 2021, she will begin a career in consulting with Accenture.