Alain d'Astous wins an Emerald Literati Network 2016 Award for Excellence
May 17, 2016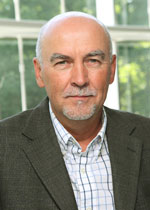 Congratulations to Full Professor Alain d'Astous (Marketing), who was named an Outstanding Reviewer in the Emerald Literati Network 2016 Awards for Excellence!
This distinction comes in recognition of his significant contribution to the International Marketing Review throughout 2015. He has been an author and reviewer for this journal for close to 10 years now, and a member of its Editorial Board since 2008.
Alain d'Astous has been with HEC Montréal since 1999. He holds a PhD from the University of Florida and an MSc from the Université de Sherbrooke, both in Business Administration. He served as Director of the Marketing Department from 2001 to 2004, Associate Director of Academic Affairs and Strategic Planning from 2005 to 2008 and PhD Program Director from 2010 to 2015. He is affiliated with the Carmelle and Rémi Marcoux Chair in Arts Management, and specializes in consumer behaviour and marketing communication (product placement, sponsorships, celebrity endorsements).