The Hélène Desmarais Building is officially inaugurated in downtown Montréal
September 15, 2023

On September 15, 2023, HEC Montréal's Hélène Desmarais Building, which is in the heart of Montréal's business district, was inaugurated in the presence of Quebec Premier François Legault, Higher Education Minister Pascale Déry, and nearly 300 dignitaries, partners and members of the business community.
"I am proud to participate in the inauguration of HEC Montréal's Hélène Desmarais Building, said Quebec Premier François Legault. We are fortunate to have such a high-level French-language business school in Québec, which has allowed us to educate Quebecers as management professionals and businesspeople. Our young people are Québec's greatest asset and I am proud that our government has invested $108.5M in this project to foster economic excellence in French and to train talented young management professionals. "
Hélène Desmarais, Chair of the HEC Montréal Board of Directors highlighted the significance of this inauguration for Quebec's socio-economic development:
"Higher education is crucial for fostering innovation, creating wealth, expanding knowledge and enabling Quebec to carve out a place for itself on the international stage. This new building embodies the very essence of HEC Montréal's culture of excellence and its mission to make a meaningful contribution to society. This is what has always motivated my involvement in the School."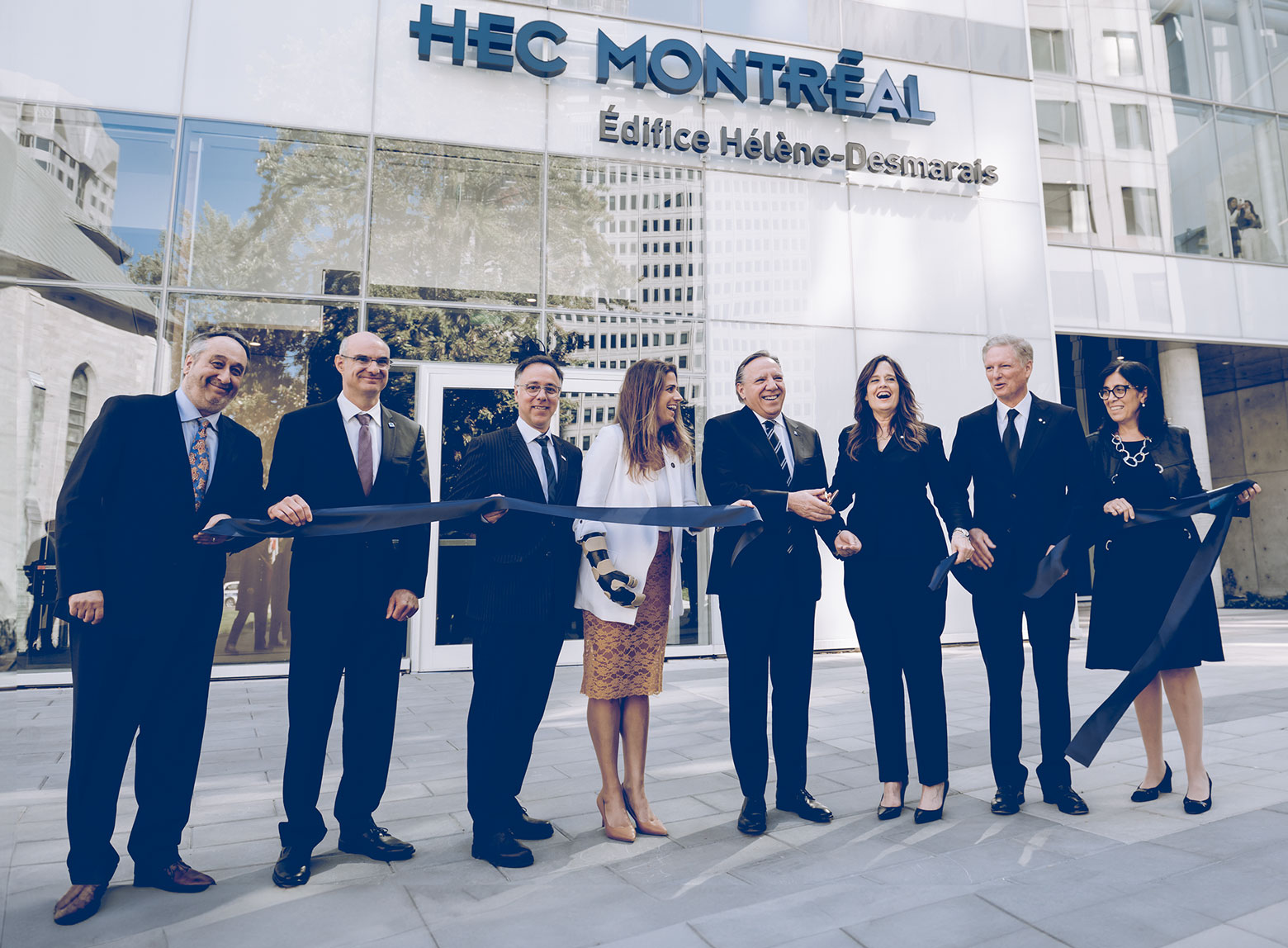 Michel Patry, President and CEO of the HEC Montréal Foundation; Federico Pasin, HEC Montréal Director; Luc Rabouin, borough mayor of Montréal's Le Plateau-Mont-Royal and Executive Committee Member Responsible for Economic Development; Pascale Déry, Minister of Higher Education; François Legault, Quebec Premier; Hélène Desmarais, Chair of the HEC Montréal Board of Directors; Paul Desmarais, businessman and philanthropist; and Loretta Cianci, Director, Campus Development, HEC Montréal.
An enriched offering of continuing education programs
This new building, which is located on Rue De La Gauchetière Ouest, at the Côte du Beaver Hall intersection, provides greater opportunities for employed individuals and executives. Its main focus is on continuing education in the form of diploma and short-term programs, since there is an increasing need for such kinds of training in Quebec.
The building welcomed its first cohorts on August 26 this year. During the 2023 fall term, more than 3,200 students will attend one of the 150 different courses being offered onsite. Around 225 staff members either work or have a base there
The new place of learning hosts MBA and McGill – HEC Montréal EMBA programs, certificates, Specialized Graduate Diplomas and Short Graduate Programs. There are also short-term training courses by Executive Education HEC Montréal, which meet the needs of some 9,000 people per year and address current topics such as emotional intelligence, digital intelligence, climate leadership, ethics, and change management. First Nations Executive Education has also been set up here.

Greater collaboration with the business community

The building also houses branches of over ten research groups and centres for facilitating knowledge transfer to companies and organizations, as well as innovation and start-up incubators and accelerators, plus a state-of-the-art conference centre. Its strategic location, at the heart of the business ecosystem, will foster dialogue and collaboration among organizations and research teams whose expertise helps address social issues such as sustainable development, business ethics, digital transformation and artificial intelligence.
"Our return to downtown Montréal will increase accessibility to our continuing education programs," stated HEC Montréal Director Federico Pasin. "It will also lead to greater collaboration with the academic, social, cultural, creative, business and entrepreneurship communities. This building, along with the ones in the Côte-des-Neiges district, will accomplish the School's missions of teaching, research and providing services to the community, with the purpose of implementing positive actions that are constantly attuned to the needs of modern society."


Integration, modernity, sustainability
The architecture of the Hélène Desmarais Building was designed in such a way as to maintain views onto St. Patrick's Basilica and highlight it. The construction of the building is part of a process that respects and revitalizes the neighbourhood for the benefit of the surrounding community. As the Director of Campus Development Loretta Cianci observed:
"Our building is modern and functional and blends harmoniously and respectfully into its surroundings. The principles of sustainable development are etched into its walls and its soul. This is a symbol of pride for us, especially since its construction cost remained well within the budget."
It is worth noting that the building has been registered with the Canada Green Building Council and is aiming for LEED (Leadership in Energy and Environmental Design) Gold certification.

Over 1,000 donors from the School community
A significant part of this new building, whose construction began in the fall of 2019, has been financed through donations from over 1,000 members of the HEC Montréal community such as alumni and corporate partners. The HEC Montréal Foundation has to date reached 95% of its $39.3 million funding target, thanks to generous contributions. The Quebec government has contributed $108.5 million, with another $87.4 million coming from HEC Montréal. The total cost of the project is $235.2 million.


Complete video of the inauguration ceremony