For the very first time, the School presented awards for teaching excellence to PhD students who choose to teach undergraduate and graduate courses at HEC Montréal during their doctoral studies.
12 people in the PhD in Administration program were recognized by the doctoral program administration on November 18, at a breakfast ceremony at the Le Cercle restaurant.
2 of them, Marie-Ève Beauchamp-Legault and Francis Desjardins, were honoured with Awards for Teaching Excellence.
10 others received honourable mentions for the quality of their teaching:
Florian Carichon
Renato Chaves
Audrey-Anne Cyr
Patrick Groulx
Pierre Lepage
Francis Maisonneuve
Mireille Mercier-Roy
Miguel Milanez
Justine-Anne Rowell
Narges Sereshti
The winners of the top awards receive a $2000 scholarship, and the finalists receive prizes of $500.
The choice of the finalists and this year's 2 winners was based on an analysis of student evaluations for courses taught in the fall 2021 and winter 2022 terms. The 2 main criteria considered were students' satisfaction with what they learned in the course and their satisfaction with the teacher's pedagogical skills.
"A large part of the career of a university student takes place in the classroom. Teaching skills are one of the basic competencies to be acquired and improved in order to do this work successfully. I salute the commitment and excellence of these 12 deserving teachers who managed to create an environment conducive to students' intellectual development and instill in them the desire to excel and work hard!"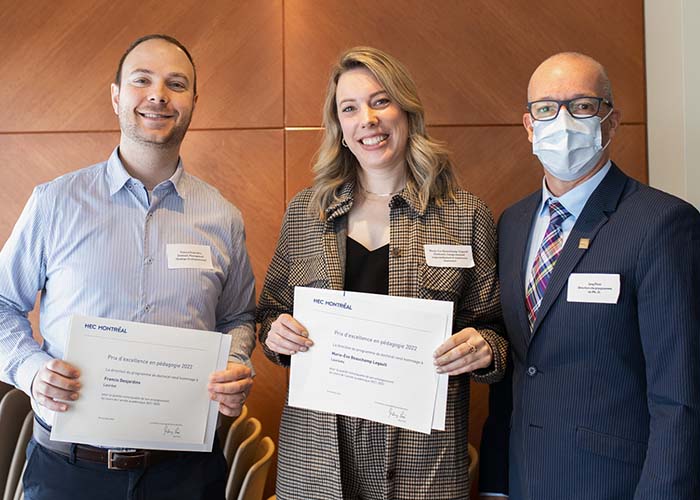 Winners Francis Desjardins and Marie-Ève Beauchamp-Legault, with PhD Program Director Guy Paré.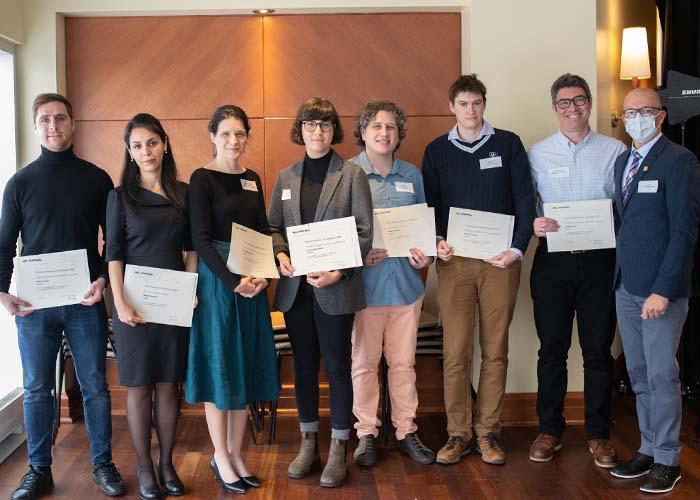 Finalists Pierre Lepage, Narges Sereshti, Mireille Mercier-Roy, Justine-Anne Rowell, Miguel Milanez, Florian Carichon and Renato Chaves, with Guy Paré (absent from the photo: Audrey-Anne Cyr, Patrick Groulx and Francis Maisonneuve).