A paper by Alaric Bourgoin and Ann Langley wins an award
Best Theory-to-Practice Paper
October 7, 2020
Associate Professor Alaric Bourgoin and retired Professor Ann Langley won an award for a scientific paper delivered at the 2020 Academy of Management (AOM) Conference, in August.
The winning paper was co-authored by Alaric Bourgoin, Alexis Laszczuk and Ann Langley. Alexis Laszczuk was previously a postdoctoral fellow at HEC Montréal, and is now a Professor at the ESSCA School of Management, in France. The AOM Organization Development and Change Division chose this paper for its Rupert F. Chisholm Award, in recognition of research demonstrating how theory informs practice and reflective practice enriches concepts and theories.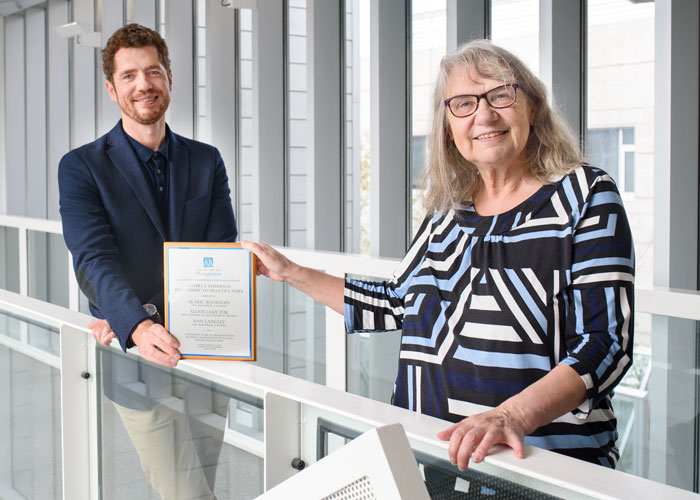 Legitimacy
Titled Legitimacy Work in Organizations: Securing the Existence of a Novel Structural Unit, the paper looks at the legitimacy work of a change agency unit dedicated to radically changing the culture of an organization, while remaining sufficiently aligned with this culture to ensure its survival despite opposition.
Data was collected through ethnography and interviews over a three-year period from the employees of a leading French administrative organization. The organization in question was seeking to implement new management practices (telework, flex offices, elimination of a hierarchical level, visual management, etc.) to decentralize the organization and give field agents more autonomy.
Applicable results
As the award won by Professors Bourgoin and Langley shows, the results of the study can easily be applied to change agency units (internal advisors, organizational development, HR, etc.) and to their managers navigating internal tensions within the organization.
« We propose a model that identifies the different legitimation practices of change agency units, and also integrates the audience's social judgments and hence the types of legitimacy produced with varying success by these practices », explains Alaric Bourgoin.
« We also show that, contrary to the findings of most research, it is not essential for a change agency unit to be viewed as legitimate for the change content it champions to be appropriated by field agents. On the contrary, in some cases, the more the team promoting the change provokes resistance, the more employees will appropriate this change and later dissociate themselves culturally from the project initiators. »
Learn more about the work of Alaric Bourgoin et Ann Langley