A new certification in ethics and compliance
HEC Montréal joins forces with the Caisse de dépôt et placement du Québec and Hydro-Québec
February 3, 2020
HEC Montréal, the Caisse de dépôt et placement du Québec (CDPQ) and Hydro-Québec have introduced a new certification in ethics and compliance. The Osler law firm is also a partner in this new program.
The certification, developed and offered by Executive Education HEC Montréal (ED), is intended for professionals and business managers in the private and public sectors.
Tools for ethics and compliance professionals
The program is designed to offer tools for promoting and managing ethics and compliance in public and private organizations. The certification will also encourage the sharing of best practices in these areas and help build a community by connecting professionals interested in these questions in Quebec organizations.
Participants will attend four two-day theory modules, along with a one-day final practical exercise. This will earn them high-calibre university certification.
A number of teaching themes
The themes covered in the theory modules include:
the regulatory framework, whether it be international, national or industry-based
the importance of ethics and compliance considerations in creating value for the firm and its shareholders
organizational leadership
designing a compliance program
the legal framework for calls for tenders in the public sector
cybersecurity and protecting personal data
preventing corruption and harassment
The program will launch on June 3, 2020 with a lecture by Emmanuel Lulin, Executive Director of Ethics at L'Oréal. Mr. Lulin will also be mentoring the first cohort.
Co-directors
The program co-directors are Ginette Depelteau, an ethics and compliance expert, Jacques Lemay, Professor and Director of the HEC Montréal Finance Department, and Stéphane Rousseau, holder of the Chair in Governance and Business Law in the Faculty of Law at the Université de Montréal.
Learn more about the new certification in ethics and compliance (in French)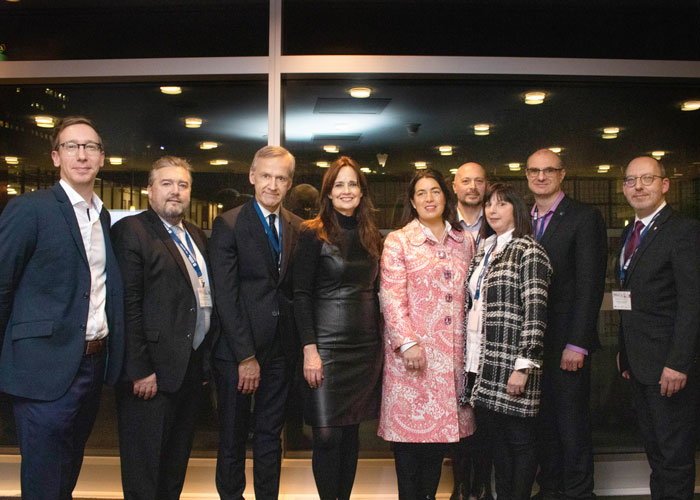 Simon Denault, Director, Ethics and Compliance, CDPQ; Serge Lafrance, Director, ED; Jacques Lemay, HEC Montréal Professor and program co-director; Hélène Desmarais, Chair of the HEC Montréal Board of Directors; Kim Thomassin, Executive Vice-President, Legal Affairs and Secretariat, CDPQ; Jean-Marc Gauthier, Director, Client Relations and Communication, ED; Ginette Depelteau, corporate director and program co-director; Federico Pasin, HEC Montréal Director; and Stéphane Rousseau, Professor in the Faculty of Law at the Université de Montréal and program co-director.