Research Award for 2019 Goes to Christian Vandenberghe
November 28, 2019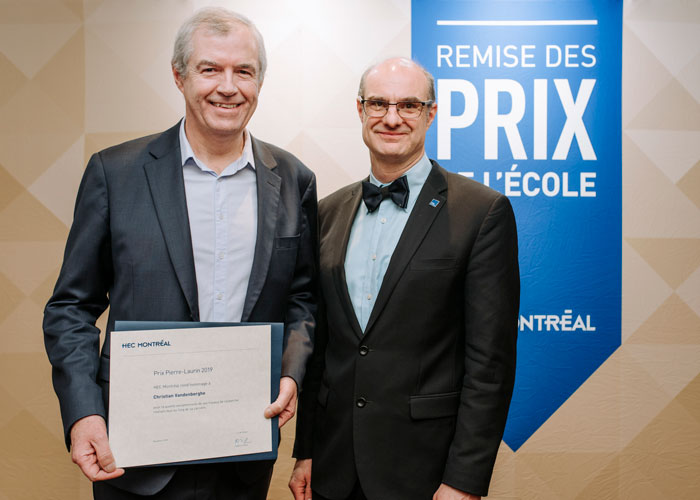 Professor Christian Vandenberghe and School Director Federico Pasin.
This year, HEC Montréal has chosen to honour Christian Vandenberghe with the Pierre Laurin Research Award in recognition of the excellence of his scientific career and his contribution to raising the School's reputation. It was presented to him at HEC Montréal's annual awards ceremony on November 27, 2019.
Prof. Vandenberghe has a PhD in psychology from the Université catholique de Louvain, in Belgium. He has been a professor in HEC Montréal's Department of Management since 2003. He has also taught at the Université catholique de Louvain and has been guest professor at the Université de Toulouse I, in France.
An influential researcher
Prof. Vandenberghe's contributions to and influence over his field are considerable. He has published over 180 scientific papers in journals, including a dozen or so in A+ journals. To date, Google Scholar credits him with over 14,000 citations and an h index of 48.
For 10 years, from 2005 to 2015, Prof. Vandenberghe held a Canada Research Chair at HEC Montréal. Since 2015, he has held the Chair in the Management of Employee Commitment and Performance.
The topics of employee commitment, performance and retention have been the focus of his research for many years. "The goal of my research is to deepen our understanding of the mechanisms of employee commitment in their organizations and the impact that this can have on workforce retention and work performance," the award winner said.
He takes the practical applications of his research work very seriously: "All employers seek ways to retain their staff, but they're often poorly equipped to deal with these challenges. That's why this research is so important, especially now, with the labour shortages Quebec employers are facing. Employee commitment has become a major issue."
Grants and awards
Over the course of his career, Christian Vandenberghe has received no fewer than 23 research grants worth a total of over $6 million. In 2017, the John R. Evans Leaders Fund of the Canada Foundation for Innovation, in conjunction with other organizations, awarded him $2 million to build a corporate database (Global Experience Panel) for the purpose of multisource, multilevel, longitudinal studies. The panel will have a major impact on future work, as it will allow him to conduct organizational behaviour research at the highest level.
It is worth noting that, for Prof. Vandenberghe, the Pierre Laurin Award is yet another recognition in a long list of awards and distinctions received over the years, which also includes the 2015 Reviewer of the Year award from the journal Human Relations and his 2011 induction into the Royal Society of Canada, to name just two.