A Canada Research Chair granted to Ann-Frances Cameron
June 19, 2019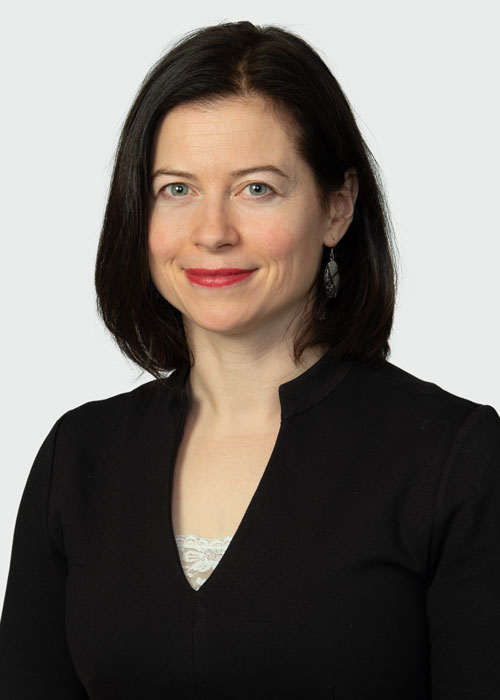 Associate Professor Ann-Frances Cameron has been named holder of the Canada Research Chair in Digital Communication and Multitasking.
The new Chair was officially announced on June 14 by Minister Kirsty Duncan. Professor Cameron was appointed for a five-year renewable term, effective January 1, 2019.
The Chair will be able to count on $100,000 in annual funding for a five-year renewable period, for a potential total of $1 million over ten years.
Getting the best out of digital communication
Professor Cameron's research focuses on how digital communication technology is transforming the workplace and the lives of knowledge workers. The use of this technology – smartphones, real-time collaborative tools, virtual or augmented-reality meeting spaces, for example – poses a challenge in terms of efficiency and integration, if we are to truly transform work and organizations.
Professor Cameron's work with this new chair will centre specifically on the effects of digital communication technology on employee communications and multitasking. For instance, for individual workers, this technology may have an impact on stress or productivity. For work groups, it may influence the efficiency of meetings or group cohesion.
This research will have benefits mainly for organizations and knowledge workers, who may be able to apply the data-based recommendations and develop new means of improving their use of digital communication technology.
A digital meeting laboratory
In connection with the creation of the Chair, Professor Cameron has also been granted funding from the Canadian Foundation for Innovation's John R. Evans Leaders Fund and the Quebec government. She has received $508,050 to develop a digital meeting laboratory.
The laboratory will let researchers look at how systems for digital meetings and other forms of communication technology change the nature and results of virtual meetings.
Professor Cameron's career in brief
Professor Cameron earned a PhD in Information Systems from Queen's University, in Kingston, Ontario. She has taught in the Department of Information Technologies at HEC Montréal since 2006. She is also Director of the Research Group in Information Systems (GReSI).
Her work has been published in several specialized journals, including Information Systems Research, Organization Science, Information & Management, the Journal of Occupational Health Psychology, Computers in Human Behavior, and the Journal of Small Business Management.