The Summer School on Management of Creativity turns 10
September 21, 2018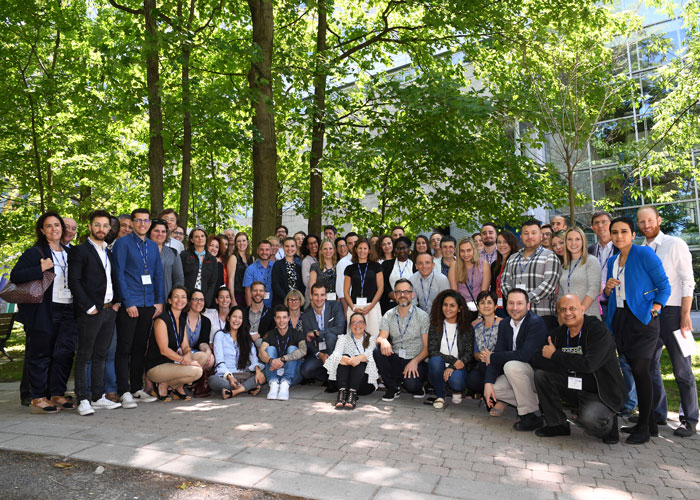 The Summer School on Management of Creativity in an Innovation Society marked its 10th anniversary this year. The intensive program, organized by the Mosaic Creativity and Innovation Hub, ran from June 21 to July 9, bringing together 70 participants with different professional backgrounds from 11 countries. For this special 10th edition, a stay in Berlin was added to the usual 15-day immersion program in Montréal and Barcelona.
Learning best practices in innovation
The Summer School gives a mixed group of graduate students, decision-makers, university professors, consultants and other professionals the opportunity to experience different ecosystems first-hand, so as to study and compare their innovation processes.
Participants learn through company tours, seminars and projects. For instance, industry representatives may give them problems to solve. These challenges become actual study projects, as participants work together to find real-world solutions.
The program also includes several workshops to encourage collaboration, experimentation and creativity. For example, one of the events organized every year at HEC Montréal is an "omelette competition," where teams have to prepare the dish using a set list of ingredients, and come up with a marketing, sales and delivery strategy.
The Summer School is an opportunity for participants to share experiences and access networks that would otherwise be difficult to penetrate. It's also a chance to meet renowned creators, professors and creative managers on a privileged footing, at events and lectures. The two special guests for this 10th anniversary were Nathalie Bondil, Executive Director and Chief Curator of the Montreal Museum of Fine Arts (MBAM), who was at the Montréal launch, and Ferran Adrià, the famous chef and founder of elBulli, the Spanish molecular gastronomy restaurant, who attended the closing event in Barcelona.
Interactive workshop during the 2018 Summer School.
Origins of the School
The origins of the Summer School date back to 2008, as the brainchild of two HEC Montréal Professors: Patrick Cohendet and Laurent Simon. "There was a two-day seminar where we compared Montréal and Barcelona in terms of creativity. That's where we came up with the idea of taking a closer look at this topic and setting up something more permanent," says Marie Lucy Stojak, Executive Director of Mosaic.
It was an avant-garde concept, she adds. "Ten years ago, no one was talking about innovation ecosystems. The School brought a new approach to stimulating innovation through this blend of professionals and academics, and also the chance to take a fresher and more intergenerational look at innovation."
Impact
According to Stojak, the Summer School has led to new research projects and greatly enhanced HEC Montréal's international reputation. "The Summer School and Mosaic make HEC Montréal a leader in the management of innovation and creativity," she says.
Over the past decade, other intensive creativity programs have emerged elsewhere in the world, following in the steps of this Summer School. There is the Autumn School in Strasbourg, the Winter School in Grenoble and the Spring School in Lille. A similar school is also planned for Tokyo, in March 2019.
The Summer School in Montréal and Barcelona will be back in 2019 for its 11th year, from June 27 to July 12.
-30-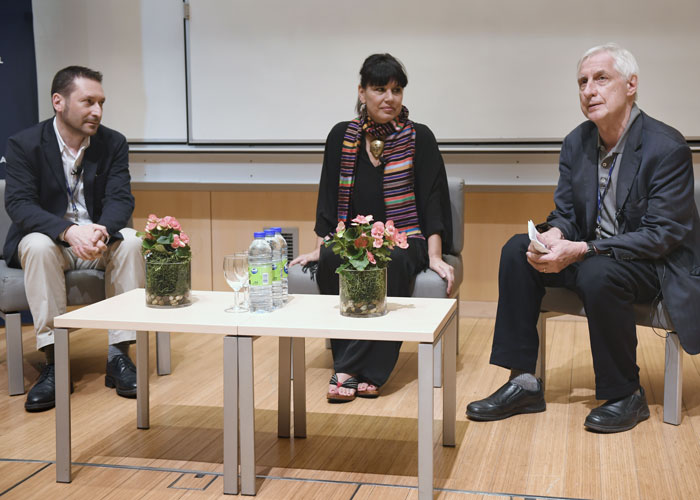 HEC Montreal Professor Laurent Simon, MBAM's Executive Director and Chief Curator Nathalie Bondil and HEC Montreal Professor Patrick Cohendet.