Saouré Kouamé Wins the Best PhD Dissertation Award
June 21, 2018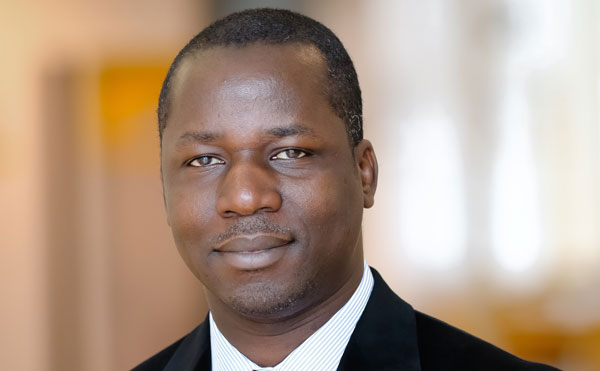 Photo: Moustafa Saad
The 2017 Best PhD Dissertation Award went to Saouré Kouamé (PhD 2017, Management ) for his dissertation entitled Beyond Rationality: Top Executive Emotions and Strategy-Making.
Under the supervision of Professor Taïeb Hafsi, Saouré Kouamé wrote a dissertation that received recognition for its high-quality and thorough research, particularly with regard to the validation and multimethod approach used, the clear theoretical and empirical contributions, the author's excellent subject mastery, and originality.
The dissertation questioned the "rational decision-maker" paradigm. It studied CEOs and executive partners, revealing that emotions are inextricably tied to strategic decision-making and are key to a company's success.
The thesis included three articles addressing the role that executives' emotions play:
A theory asserting that executives' positive emotions contribute to their company's success by fostering creativity, innovation, changes in strategy, the pace of decision-making and collaboration
Confirmation of this positive impact based on a study of the effects that 102 CEOs of SMEs and large enterprises in Quebec have on corporate entrepreneurship
A multiple-year study conducted with two organizations to develop a theory on how executives can manage anxiety (including the board of directors) in a way that fosters change
Concrete Results
The results of this dissertation contribute to the advancement of knowledge in the strategic management of organizations. It is one of the few scientific works to have explored in such depth the question of emotions in decision-making processes and their impact on a company's success.
One of the three dissertation articles also won the Best Paper Award , Strategy Division , issued by the Administrative Sciences Association of Canada.
About the Winner
In addition to having published scientific articles in Management Decision, Gestion, Journal of Business Ethics and Strategic Management Journal, Saouré Kouamé is the co-author of a book to be published in fall 2018, called Solidarité en crise: Centraide et la nouvelle philanthropie. He is currently an assistant professor of Strategy at the University of Ottawa's Tefler School of Management.
Congratulations to Saouré Kaoumé and to the 2017 Best PhD Dissertation Award finalists:
| | |
| --- | --- |
| Name | Specialization |
| Gustavo Adolfo Birollo | Management |
| Louis-François Brodeur | Management |
| Johnathon Cziffra | Accounting Studies |
| Sébastien Debia | Decision Studies |
| Geneviève Desbiens | Management |
| Chloé Fortin-Bergeron | Human Resources Management |
| Yoann Guntzburger | Management |
| Oussama Marzouk | Financial Engineering |
| Thu-Trang Tran | Management |