MBA students win for an innovative app combining energy and the environment
November 20, 2018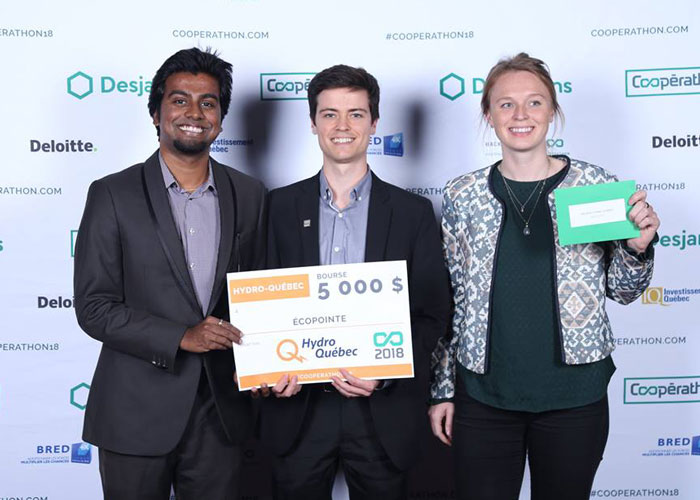 Avinnash Ravindran, Étienne Boutet and Charlotte Lombardi.
A three-member MBA student team won the Hydro-Québec Challenge at the 2018 Cooperathon, an open competition promoting social innovations, held in several Quebec and Ontario cities from September 26 to November 1. The team of Étienne Boutet, Charlotte Lombardi and Avinnash Ravindran took home a $5,000 prize.
The Cooperathon is held every year by the Desjardins Group, in partnership with business sponsors. This year's competition was divided into four themes: Health, Finance, Education and Energy/Environment, with 134 teams totalling 1,445 students.
The HEC Montréal "ÉcoPointe" team, which reached the semi-finals in the Energy/Environment category, came up with an excellent answer to the challenge issued by Hydro-Québec, the category sponsor: "How can we increase the renewable energy share of the energy we use, or how can we co-ordinate and pool the means and efforts of goods and energy producers and consumers?"
The solution proposed by ÉcoPointe is a mobile app designed to shift electricity demand, which can be excessive during peak periods in winter. This is a recurring problem for Hydro-Québec. The ÉcoPointe solution would let the government corporation avoid having to import electricity from environmentally harmful sources like coal-burning plants.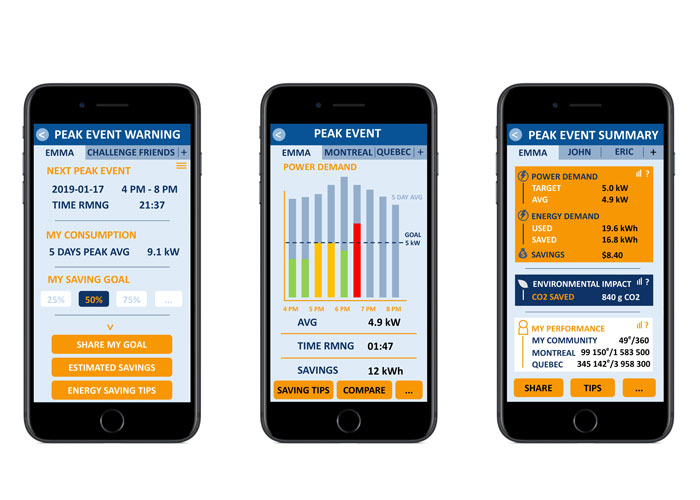 The ÉcoPointe app notifies users of expected peaks in energy demand and lets them track their usage during such events and see the environmental and economic impact of their efforts, with the goal of reducing peak electricity demand.
In the longer term, it could also make it possible to delay the construction of infrastructure megaprojects, which are often costly but needed to ensure sufficient power to meet peak electricity demand during intense cold snaps.
The ÉcoPointe app is designed as an awareness-raising tool and a game for users. They can compete with their own targets or other electricity consumers.
Users are notified when Hydro-Québec expects demand for electricity to rise. Then they receive a series of tips for reducing their usage. For instance, they may be urged to run appliances that use hot water during off-peak periods.
ÉcoPointe then follows up in real time to tell users how they stack up.
The ÉcoPointe team members are convinced that their app will have benefits for Quebeckers, allowing them to reduce their environmental footprint and their reliance on imports and non-renewable energy sources.
Given that such an app could also generate considerable savings for Hydro-Québec, the government corporation is quite interested in developing it. Discussions are underway with our three winning students.