Jo-Annie Fortin Wins the Best Master's Thesis Award
June 21, 2018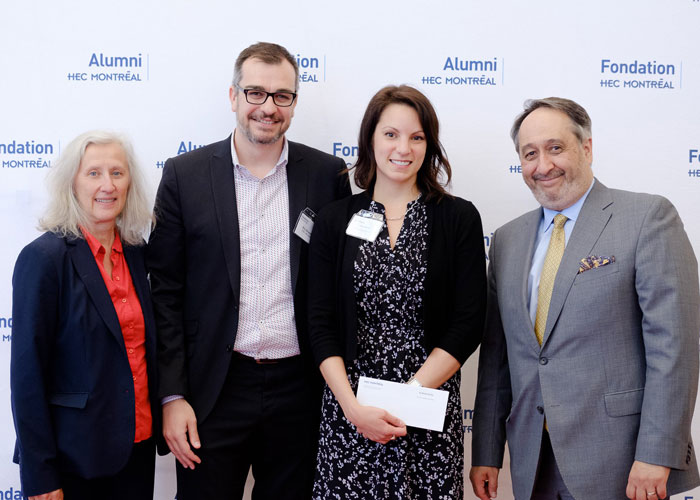 Michèle Breton, Eric Brunelle, Jo-Annie Fortin and Michel Patry.
Congratulations to Jo-Annie Fortin (Organizational Development specialization), winner of the 2017 Best Master's Thesis Award!
Entitled Loin des yeux, près du cœur : l'importance du sentiment de proximité dans l'exercice du leadership à distance, her thesis greatly impressed the jury. Only the top theses were considered for the award.
Supervised by Associate Professor Eric Brunelle, Jo-Annie Fortin's thesis examined whether leadership deemed effective in the workplace remains relevant in the era of telecommuting.
Fortin is currently a Change Management Advisor at Bombardier Aviation & Aerospace. She studied the impact of objective distance and psychology on the relationship between a manager's relationship style, work performance and the psychological needs of employees. For the study, she collected data through an online questionnaire, which was completed by 608 employees from four Canadian organizations.
Conclusive results
The results of her thesis suggest that psychological distance has a negative effect on employee performance and psychological needs. In some cases, it even lessens the positive effects of leadership. Contrary to what has long been reported by organizations and in literature, objective distance appears to have little or no impact.
Congratulations to the finalists
We would also like to recognize the excellent work of the other 2017 Best Master's Thesis Award finalists:
| | |
| --- | --- |
| Name | Specialization |
| Catherine Beaufort | Organizational Development |
| Linda Bensalah | Management |
| Massimo Caccia | Financial Engineering |
| Sarah Cacoub | Management in the Context of Social Innovation |
| Alyssa Castracane | International Business |
| Laurie Cloutier | Business Analytics |
| Felipe Helfer | International Business |
| Andriana Hnatykiw | International Business |
| Alain-Philippe Fortin | Applied Financial Economics |
| Marie-Ève Jodoin | Marketing |
| Romain Le Duc | International Business |
| Marc-Olivier Legentil | Operations Management |
| Naomi Leguy | Marketing |
| Horea Pauna | Information Technology |
| Romain Pourchon | Information Technology |
| Paul Anthony Sarkis | Applied Economics |
| Claire Samirah Sobodker | Organizational Development |
| Louis-Pierre Trottier | International Logistics |