HEC Montréal joins forces with ESCP Europe to offer a dual Master's degree
March 7, 2018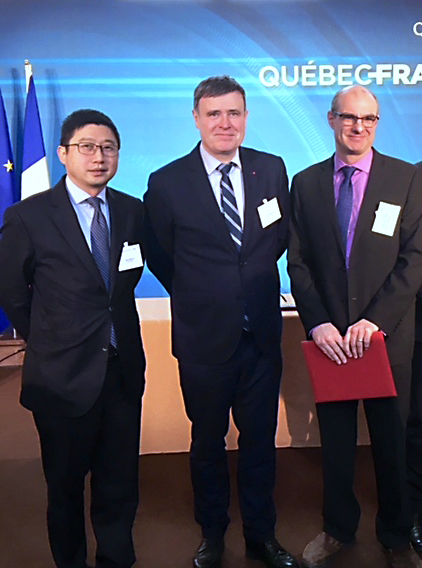 Léon Laulusa, Assistant Executive Director, ESCP Europe, Frank Bournois, Executive Director, ESCP Europe, and Federico Pasin, Secretary General and Director of International Activities, HEC Montréal.
HEC Montréal has signed an agreement with ESCP Europe, regularly ranked among the top European schools, to allow students from the two institutions to earn a dual Master's degree.
The official signing ceremony was held in Paris on March 7, attended by Quebec Premier Philippe Couillard, the Secretary General and Director of International Activities at HEC Montréal, Federico Pasin, the Executive Director of ESCP Europe, Frank Bournois, and Assistant Executive Director Léon Laulusa.
A solid general education combined with a specialization
Starting next year, 10 students per year – 5 from each school – will be able to enroll in this special stream and earn a Master of Science (MSc) in Management from HEC Montréal and a Master in Management (MIM) Grande École from ESCP Europe.
The Master in Management from ESCP Europe is a highly renowned general management program. In fact it placed 6th in the 2017 Financial Times world ranking.
The MSc degrees from HEC Montréal included in this program will offer high value-added specializations:
"We are very proud of this agreement, which will give talented and motivated young students a trans-Atlantic experience combining a cutting-edge field in which HEC Montréal is known worldwide, such as Global Supply Chain Management, with one of the world's top Management programs, at ESCP," said Federico Pasin.
Learning about business cultures in Europe and in Quebec
HEC Montréal students enrolled in this program will do their first term in Montréal, before completing two terms at one of the ESCP Europe campuses in Berlin, London, Madrid, Paris or Turin.
ESCP students, for their part, will do the first year of their Master's in Europe, and then come to HEC Montréal the next fall to complete their program in their chosen specialization.
The first HEC Montréal cohort will be landing in Europe in January 2019, while the first ESCP students will arrive in Montréal in fall 2019.
Another attractive advantage for students enrolled in this dual degree program is that they will pay the tuition and registration fees of their home institution, and only the registration fees at the other school.