Laëtitia Lancellotta wins a Forces Avenir award
Undergraduate Personality award
October 12, 2018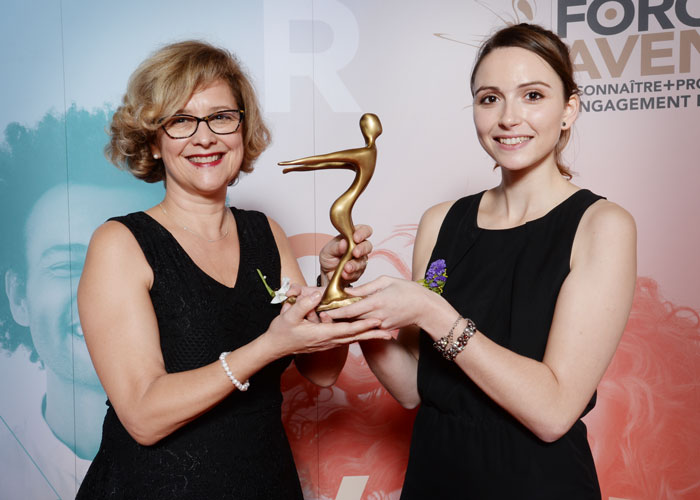 Dominique Marcotte, Editor in Chief of ICI RDI, and Laëtitia Lancellotta, winner of a Forces Avenir award in the Undergraduate Personality category.
Laëtitia Lancellotta, who recently earned her Bachelor's in Business Administration (BBA) at HEC Montréal and was involved with several non-profit, music-related organizations during her studies, was honoured at the Forces Avenir gala on September 26, at the Capitole in Quebec City. She won the Undergraduate Personality award, which comes with a cash prize of $4,000.
Laëtitia completed her BBA with a specialization in both marketing and project management, in April 2018. She entered the Forces Avenir competition in her final year. She was chosen to represent the School, and then moved on to the regional level and was one of 12 finalists to go before a jury in May of this year.
During her time at university, Laëtitia served as a volunteer ambassador for the Orchestre symphonique de Montréal and the Opéra de Montréal. She also did a one-term internship with the Philadelphia Orchestra, where she designed an educational program for special-needs children. She took part in the Global Leaders Program and spent several weeks in Chile, where she put her skills to work at the Viva la Musica camp, which gives young Chileans coaching and musical training from local and international music teachers.
Her future goals were also taken into account by the jury for this award. For Laëtitia hopes to launch a project one day that will use music as a tool for promoting literacy among children from disadvantaged neighbourhoods faced with violence and delinquency problems.
In the meantime, she plans to continue in the position she has held since June, as Artist Services & Education Coordinator with the Tafelmusik Baroque Orchestra in Toronto.