The 2017 Pierre Laurin Award goes to Suzanne Rivard
HEC Montréal award for excellence in research
November 23, 2017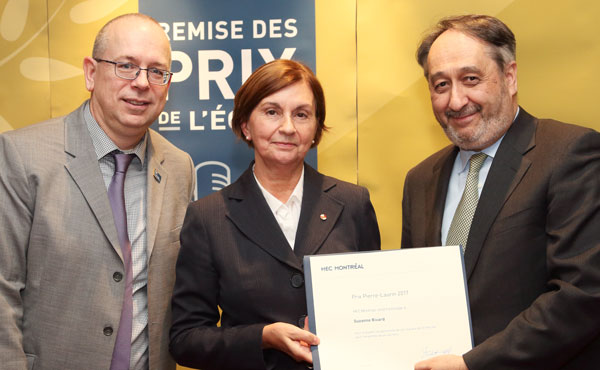 The School has awarded this year's Pierre Laurin Award for excellence in research to Full Professor Suzanne Rivard, in recognition of her outstanding career and her exceptional contribution to HEC Montréal's scientific renown. She was presented with the award at the School's annual award ceremony on November 22.
Professor Rivard has made her career in the field of information systems for over 30 years now. After completing her undergraduate studies and her MBA at HEC Montréal, she earned her PhD from the Richard D. Ivey School of Business at the University of Western Ontario. In 1983 she became the first woman in Canada to hold a PhD in Information Systems.
Over the years she has published more than 200 papers, books, book chapters and other scientific material. In her work she has focused on three main themes:
Strategic management of information technologies (TI)
Risk management
Management of IT implementation
She contributed to research in information systems by developing, with her colleagues Henri Barki and Jean Talbot, a keyword classification scheme widely used by scholars in the field.
She has also made major contributions to advancing knowledge in the area of risk assessment and management for information system development projects, IT outsourcing and the implementation of integrated software; her work in this field has been frequently cited.
Professor Rivard's research on resistance to IT implementation is also widely recognized. With co-author Liette Lapointe she has published a number of papers in scientific journals, including one in MIS Quarterly in 2005, for which she received the award for the best paper published in the journal that year.
She humbly says that she has never really seen herself as an IT pioneer. She notes that she has always oriented her work to generate useful results for organizations.
She says she is pleased to join the ranks of HEC Montréal researchers who have received this distinction, colleagues whom she deeply admires. "I'm most pleased to think that my contributions are considered on a par with theirs," she says.
Suzanne Rivard: main titles and honours
Winner of the 2017 Pierre Laurin Award for excellence in research