Provincial level of the CFA Institute Research Challenge: The HEC Montréal team takes the competition and will represent Quebec in the Americas final
March 7, 2017
HEC Montréal students won the provincial round of the CFA Institute Research Challenge held by CFA Montréal. They will now represent Quebec in the Americas regional final, to be held in Seattle, Washington, on April 6 and 7. They will be competing against about fifty teams from the largest cities in the Americas, all vying to get to the big global final.
The HEC Montréal team of BBA students Renaud Paquin, Jérémy Major, Chang Qi Chester Liu and Jean-Benoît Courchesne is being coached by Full-time Lecturer Jean-Philippe Tarte (Finance) and Éric Landry, an Investment Officer with CN's Investment Division.
For the local-level competition, participants had to analyze D-box Technologies Inc. stock, submit a research report and make a presentation to a panel of investment experts.
The HEC Montréal students impressed the judges with the quality of their analysis and by identifying the important factors that made the firm stand out in its sector.
The CFA Institute Research Challenge is an international financial research and analysis competition in which some 2,500 students from 546 universities in 45 countries take part.
The winning teams at the three regional levels (Americas, Asia-Pacific and Europe/ Middle East/Africa) will face off at the global final, on April 28, in Prague, Czech Republic.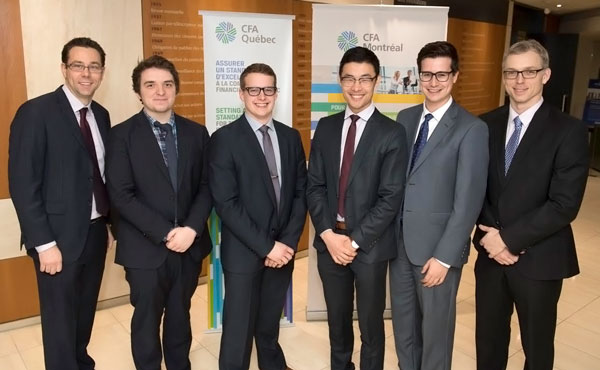 Eric Landry (coach), Renaud Paquin, Jérémy Major, Chang Qi Chester Liu et Jean-Benoît Courchesne (B.A.A.), and Jean-Philippe Tarte (coach). Photo: CFA Montréal.