HEC Montréal students win the People's Choice award at the Les Affaires start-up challenge
November 20, 2015
Could you create a business in 7 days with a budget of less than $700? That's the challenge successfully met by 10 finalist teams, including HEC Montréal students Mathieu Chauvin (BBA) and Savannah Tardif (Specialized Graduate Diploma in Professional Accounting – CPA), with their colleague Henri Bergeron, as part of the Défi start-up 7 held by Les Affaires. The three students took the People's Choice (Prix du public) award, determined by popular vote on the newspaper's Facebook page.
Their start-up, Albert Schola, was designed to solve a specific problem: the gap between what students learn in school and the challenges they face as adults. Their business will offer inexpensive and useful courses on everyday life, on themes like "Basic car mechanics," "Reno 101," "How to do your taxes" and so on.
The three students attracted attention with their humorous videos that generated thousands of views on Facebook. The first course offered by this "school of life," on how to buy a house, is scheduled for release on December 1.
Congratulations to the three students for their clever idea!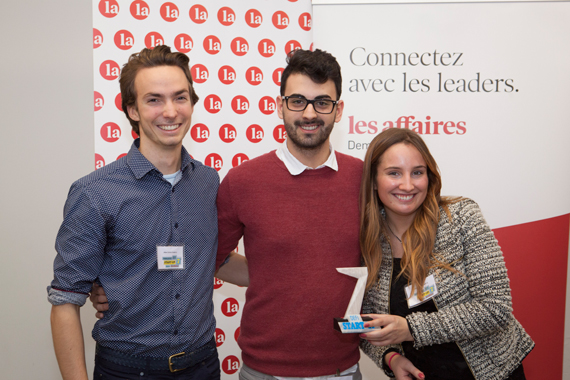 Henri Bergeron, Mathieu Chauvin and Savannah Tardif. Photo: Jérôme Lavallée.