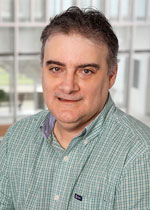 Contact information
HEC Montréal
5255, avenue Decelles
Montréal (Québec)
Canada H3T 2B1
Email:
Phone:
Secretary:
Fax:
514 340-5679
Office:
6.434
Other title(s)
Office of the Certificates Program Director
Education
M. Sc. (gestion), HEC Montréal
CPA, CMA
Expertise
Cost accounting
Management control systems
Organizational performance
Productivity measurement
Budget analysis
This publication selection covers the last five years.
This selection of supervision activities covers the last five years.
Fall 2019
COMP 30903
La gestion des coûts
COMP 30931
Contrôle et gestion de la performance
Summer 2019
32-931-13
Contrôle et gestion de la performance
Winter 2019
31-903-13
La gestion des coûts
32-931-13
Contrôle et gestion de la performance
Fall 2018
31-903-13
La gestion des coûts
32-931-13
Contrôle et gestion de la performance
Summer 2018
32-931-13
Contrôle et gestion de la performance
Winter 2018
30-950-13
Comptabilité de gestion
31-903-13
La gestion des coûts
32-931-13
Contrôle et gestion de la performance
Fall 2017
30-950-13
Comptabilité de gestion
31-903-13
La gestion des coûts