KPMG donates $600,000 to HEC Montreal
Donation helps enable HEC Montreal to launch several new ESG initiatives
Thursday February 23, 2023
Montréal, February 23, 2023 – KPMG is demonstrating its commitment to the environment with a $600,000 donation to HEC Montréal's Measuring Beyond initiative. The initiative established a research and education centre designed to showcase the importance of environmental, social and governance (ESG) principles and the role of decarbonization in the transformation of Québec businesses. It also seeks to encourage future leaders to think about the importance of an ESG skillset in their careers.
"The initiative aligns with KPMG's vision for the Québec economy, Measuring Beyond was developed in collaboration with Oxford University's Saïd Business School to meet one clear objective: to show tomorrow's leaders the importance of incorporating ESG factors into the financial decision-making process in order to actively contribute to creating an economy that is in harmony with the environment."
This donation from KPMG will allow HEC Montréal to deploy several initiatives in helping to develop ESG measurement standards through research and knowledge sharing including the KPMG's new Measuring Beyond facilities. This partnership will result in the creation of a scholarship program and a forum for dialogue and collaboration among program stakeholders and KPMG sustainability professionals. In addition, KPMG will hold a major annual conference to discuss new ESG developments and what they mean for businesses, in addition to a round table discussion where participants can test and explore new ideas as well as provide feedback.
Measuring Beyond was created in 2022 following an initial collaboration between HEC Montréal and Oxford University's Saïd Business School, with the goal of creating a space where academics from these two renowned universities could collaborate with the International Sustainability Standards Board (ISSB), as well as major organizations like KPMG.
about KPMG in Canada
KPMG LLP, a limited liability partnership, is a full-service Audit, Tax and Advisory firm owned and operated by Canadians. For over 150 years, our professionals have provided consulting, accounting, auditing, and tax services to Canadians, inspiring confidence, empowering change, and driving innovation. Guided by our core values of Integrity, Excellence, Courage, Together, For Better, KPMG employs more than 10,000 people in over 40 locations across Canada, serving private- and public-sector clients. KPMG is consistently ranked one of Canada's top employers and one of the best places to work in the country.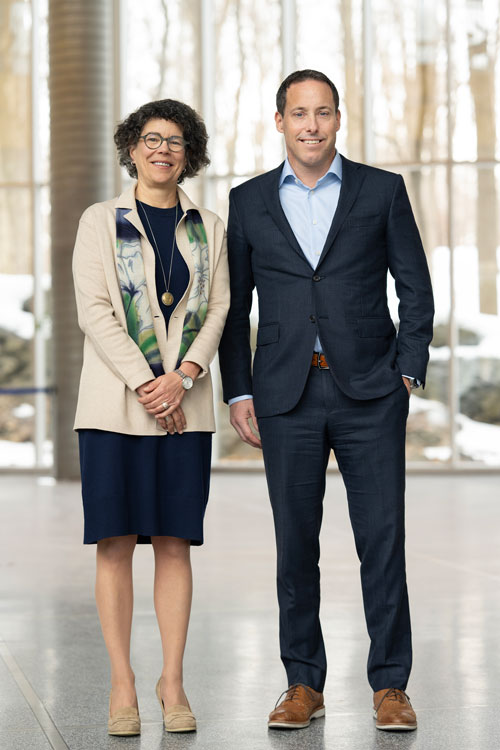 From left to right: Johanne Turbide, Secretary General - HEC Montréal and Benoit Lacoste Bienvenue, Québec Managing Partner
The firm is established under the laws of Ontario and is a member of KPMG's global organization of independent member firms affiliated with KPMG International, a private English company limited by guarantee. Each KPMG firm is a legally distinct and separate entity and describes itself as such. For more information, see home.kpmg/ca.
Source:
Geneviève Lafaille - Executive Director,
Communications and Events, KPMG in Québec
514-985-1274
glafaille@kpmg.ca
Information for HEC Montréal:
Émilie Novales, ARP
Senior Media Relations Consultant
438 520-3536
emilie.novales@hec.ca