HEC Montréal recognizes excellent doctoral theses defended in 2022
May 5, 2023
The best doctoral thesis award for 2022 has been presented ex æquo by the PhD in Administration program to two students: Cansu Alakus, supervised by Aurélie Labbe and Denis Larocque; and Audrey-Anne Cyr, supervised by Isabelle Le Breton-Miller.
An award for the best thesis written in French was also presented to Alexis Perron-Brault, who completed his PhD under the supervision of Danilo Dantas and Renaud Legoux.
Lastly, the 2022 Esdras Minville Award was presented to Mehran Poursoltani. This award is conferred on a student or recent doctoral graduate for an excellent article that has been either published or accepted for publication in a high-calibre peer-reviewed journal.
These awards were bestowed upon the best PhD theses that were defended in 2022.
Each winner received a $3,000 prize.
Cansu Alakus
Cansu Alakus' thesis is entitled Essays on covariate-based canonical correlation estimation, prediction intervals, and covariance regression with random forests. It is divided into 3 chapters, each proposing a new method for analyzing complex data based on random forests, one of the most widely used and efficient statistical learning methods.
The results of this research have practical and useful applications in various fields including neuroscience, epidemiology, biomedicine, finance, health, and marketing.
The first 2 essays from this thesis were published in high-level scientific journals — Bioinformatics and The R Journal — belonging respectively to the fields of bioinformatics and data sciences.
Audrey-Anne Cyr
Audrey-Anne Cyr's thesis is entitled Relational Modes of Management in Family Business: Relational Plurality, Configuration and Embedding. It explores relational modes of management in a family firm. More specifically, it aims to better understand how individuals join forces to generate durable social and economic value in this type of business.
The results of this thesis highlight the heterogeneous character of family businesses. They reveal the relational factors on which their performance and intergenerational continuity are based and help to understand how social capital is developed, sustained, and valued in organizations over time.
The 1st chapter of Audrey-Anne Cyr's thesis has been transformed into a paper co-authored with Isabelle Le Breton-Miller and Danny Miller. This paper has just appeared in the 2023 special issue of the Journal of Management dedicated to literature reviews.
Alexis Perron-Brault
Alexis Perron-Brault's thesis deals with the field of music marketing. It is entitled Deux articles sur l'engagement du consommateur et la performance de nouveaux produits dans l'industrie de la musique. This research work aims to understand how customer engagement — that is, their attachment and their ability to commit to a brand — affects the performance of new products.
The results obtained reveal that if customer engagement does indeed help increase the chances of success of new music albums, it is conditional on the presence of a good fit between the new product and the brand that promotes it. In other words, while a high rate of engagement can help artists succeed, it can also limit their artistic freedom.
Read Alexis Perron-Brault's thesis
Mehran Poursoltani
This paper, which was co-supervised by Mehran Poursoltani and Professors Erick Delage and Angelos Georghiou, is entitled "Risk-Averse Regret Minimization in Multistage Stochastic Programs" and it was published in Operations Research.
The paper makes a significant contribution to the field of multistage decision making under uncertainty. It provides a general modelling framework to jointly account for regret and risk aversion in the context of the most popular risk measures.
Its findings can be applied to several fields, including finance and supply chain management.
This is the second paper by Mehran Poursoltani to be published in Operations Research, a very rare occurrence for a PhD student.
Read Mehran Poursoltani's paper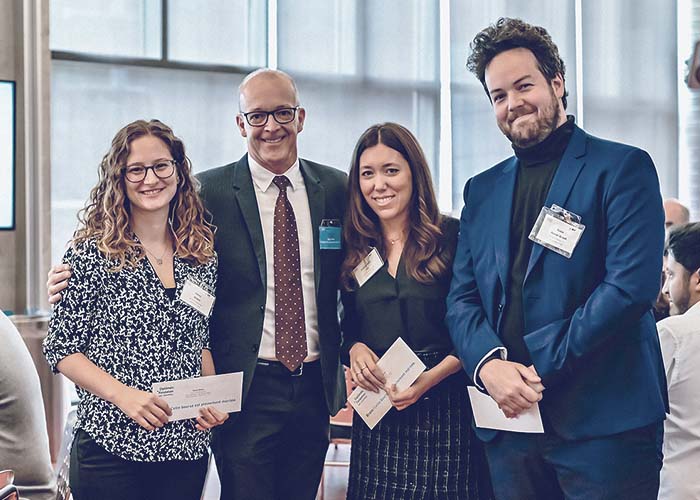 Cansu Alakus, Guy Paré, Director of the PhD in Administration program, Audrey-Anne Cyr and Alexis Perron-Brault.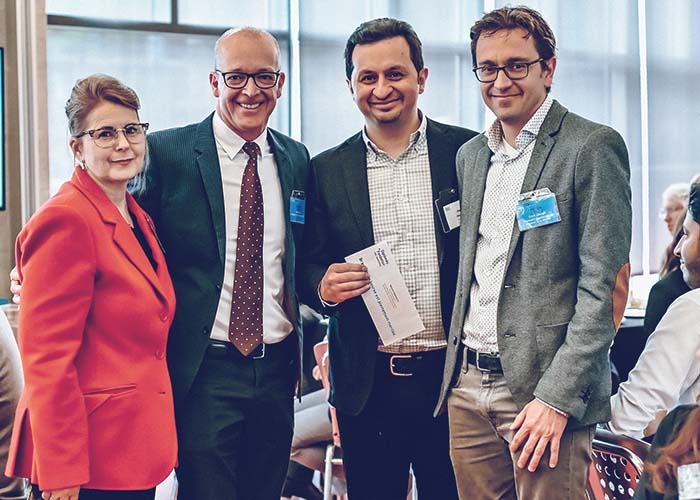 Nathalie Bilodeau, Assistant, PhD in Administration program, Guy Paré, Mehran Poursoltani and Erick Delage.
Finalists
Four members of the student community were also singled out as finalists for the best doctoral thesis award.
| Name | Specialization |
| --- | --- |
| Élie Abi Saad | Management, Strategy & Entrepreneurship |
| Renato Lago Pereira Chaves | Management, Strategy & Entrepreneurship |
| Saiad Aliakbari Sani | Decision Sciences |
| Narges Sereshti | Logistics and Operations Management |
Find out about the PhD in Administration program