HEC Montréal finishes 3rd in a case competition in Spain
April 11, 2023
A Bachelor of Business Administration (BBA) team from HEC Montréal was ranked 3rd in the University of Navarra International Case Competition (UNICC). This international case-solving competition took place from March 26 to 31, in Navarre, Spain.
The members of the award-winning team are Maxime Amyot, Noémie Bourdeau, Rachel Bussières and Sibylle Hattler.
With a perfect score of 3 wins from 3 cases during the first round, our team managed to overtake the Universities of California Berkeley, Porto, and Maastricht to finish at the top of its division. This meant that it went through to the grand finale, where it finished 3rd in a fierce competition against the American University of Beirut, the University of Alberta, and Wilfrid Laurier University.
Such an excellent outcome marks HEC Montréal's 4th podium in an international competition since the start of the school year.
"This success is due not only to the high calibre of our students, but also to the contribution of all those who participated in their training, especially the graduates who come to judge their presentations."
The University Competitions Service would like to specifically extend its thanks to the HEC Montréal Alumni Association for its constant support.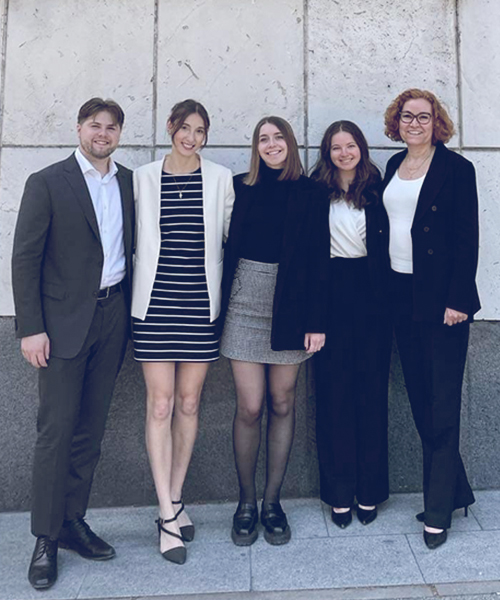 Maxime Amyot, Rachel Bussières, Sibylle Hattler, Noémie Bourdeau and Anne Bourhis.