A promising first EDI report
November 3, 2023
The first 2019-2022 EDI Activity Report produced by HEC Montréal's Office of the Secretary General, reflects the progress made by the School since the moment it committed to setting up a permanent structure on equity, diversity, and inclusion, and making this a key objective across the institution.
"HEC Montréal is keen to take part in societal changes through its culture focused on respect, inclusion and kindness, by training responsible leaders who contribute to the well-being of our community and society," says Johanne Turbide, Secretary General and Head of Equity, Diversity, Inclusion.
Significant changes have already been observed since this new structure was set up, due in large part to the transversal scope of the activities and involvement of the School's various bodies throughout the process.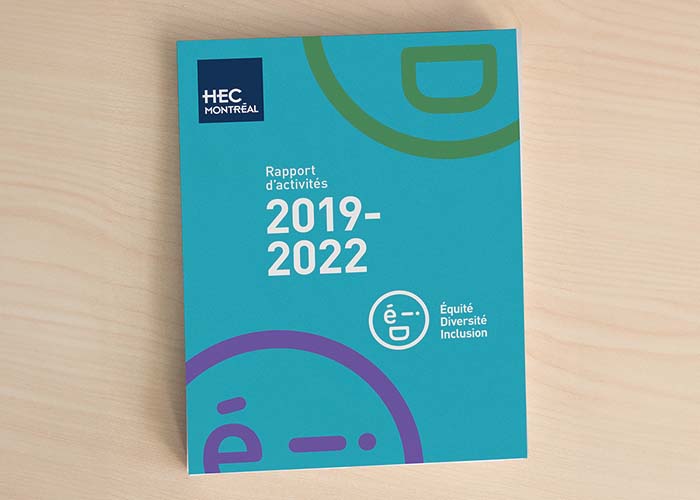 Main achievements
The EDI action plan, adopted in 2019, had five major strategic components to steer future initiatives: commit, know, understand, raise awareness and act. This guiding principle has resulted in several concrete actions in recent years:
Creation of dedicated working groups that adapt existing practices and processes and thereby reduce obstacles that individuals from under-represented groups may experience;
Identity-related data collection from staff members and the student community for the purpose of providing an overview of the diversity at the School;
Organization of focus groups and individual interviews with members of various HEC Montréal communities for identifying obstacles and possible solutions;
Development of communication tools including a new website, to raise awareness among the School community regarding concepts of equity, diversity and inclusion;
Proposal for diverse activities and themes to raise awareness among the wider community (e.g., Pride Week, Black History Month, etc.);
A range of training and awareness-raising workshops adapted to the contexts and realities of the School's different communities (students, staff members, faculty members);
Implementation of an EDI practice guide for the recruitment of professors, and new directives such as the Guidelines for Student-Parents.
Prospects for 2023-2026
In light of the various findings, the next set of actions will be largely aimed at boosting concrete commitment from members of the HEC Montréal community, encouraging individuals from under-represented groups to be more involved in decision-making, and including EDI principles in teaching and research at the School.
Consult the 2019-2022 EDI Activity Report (in French only)