1st research report from HEC Montréal's Jacques-Parizeau Research Chair in Economic Policy
Projection of autonomy support in Quebec until 2040
November 14, 2023
The Jacques-Parizeau Research Chair in Economic Policy at HEC Montréal has published its first research report entitled "Horizon 2040: projection des impacts du soutien à l'autonomie au Québec" (Horizon 2040: Projection of the impact of autonomy support in Quebec) as the province faces significant challenges in this sector.
This report was prepared for the Quebec Health and Welfare Commissioner by a research team comprising Nicholas-James Clavet, Réjean Hébert, Julien Navaux, and Michel Raîche, under the direction of chair holder Pierre-Carl Michaud. It unveils a bold and comprehensive projection of autonomy support in Quebec until 2040 for all living environments occupied by people with such needs. An unprecedented survey among 3,000 Quebeckers aged 55-69 was also conducted to document the preferences of the next generation of beneficiaries.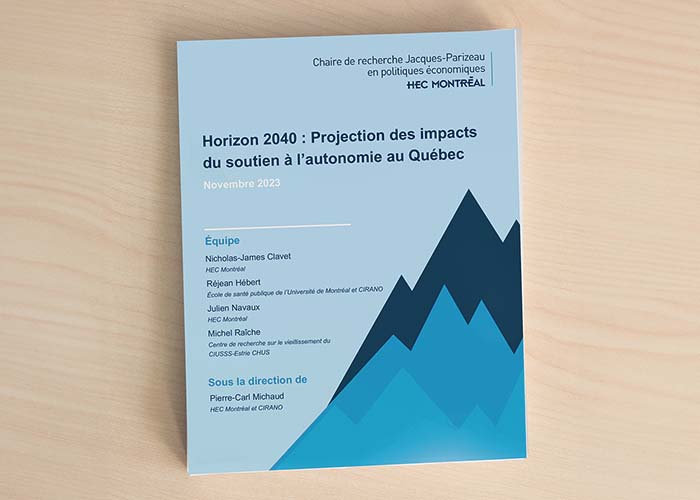 Massive rise in support needs, costs, and demand for labour
The report offers a prospective analysis of the status quo scenario, which means that current methods of financing and organization remain unchanged, and the rate of response to the needs observed in home support services still remains low, i.e., 10% to 12% of the needs financed either partially or entirely by the public sector. It establishes the following findings:
The number of people needing autonomy support in Quebec, which stands at 324,400 in 2023, is likely to increase by more than 69% by 2040, including 33,700 individuals with severe disabilities.
These new needs will represent an additional 236.2 million annual hours by 2040, i.e., an increase of 70%.
If the current trajectory is maintained, we would need to increase the availability to accommodate 42,500 new residents in residential and long-term care centres (CHSLD) or seniors' homes by 2040, which means doubling their capacity.
The region-wise results in Quebec reveal significant differences (number of people, level of needs, distribution among living environments, rate of response to needs).
The projection of the status quo reflects a substantial increase in autonomy support costs for the Government of Quebec, which rise from $7.6 billion in 2023 to $16.5 billion in 2040 (in constant 2023 dollars), i.e., an increase of 120%.
Between now and 2040, 13,700 additional people will need to be recruited into the public sector and 45,600 into assisted care and support services, just to maintain the current average level of autonomy support, which represents 110% growth in the workforce.
Survey respondents display a strong preference for home care over accommodation in intermediate care facilities or CHSLDs, in the case of low or moderate needs.
Less importance is given to the type of service provider (public, non-profit or private organizations). The amount of services, their cost, and waiting time are the factors that most strongly determine preferences.
"According to the results presented in the research report, maintaining the status quo scenario will lead to an impasse in terms of finances, labour, and the well-being of future users," states Pierre-Carl Michaud. "The tool we have developed will help analyze detailed solutions."
About the Jacques-Parizeau Research Chair in Economic Policy at HEC Montréal
Bringing together from now on more than a dozen public and private partners, the mission of this Chair, which was set up in January 2023, is to apply the utmost academic rigour to analyzing the major economic challenges facing Quebec. Its research focuses on 3 main areas: healthcare and ageing; scarcity of labour and labour markets; social policy, effective government interventions, and redistribution.
For more information
Report entitled "Horizon 2040 : projection des impacts du soutien à l'autonomie au Québec" [in French only]
About the Jacques-Parizeau Research Chair in Economic Policy at HEC Montréal