Twice as many women and immigrants among new entrepreneurs
Unveiling the 2021 Quebec Entrepreneurial Index
April 6, 2022
On March 31, 2022, the Mentoring Network and its partners unveiled the results of the 2021 Quebec Entrepreneurial Index, a benchmark for measuring entrepreneurship in Quebec. The 2021 edition was produced in partnership with the Institute for Entrepreneurship National Bank | HEC Montréal and Léger, and it focuses on the new face of Quebec entrepreneurs.
Here are the highlights

:
After 2 years of the pandemic, there has been a visible decline in the overall rate of entrepreneurial intentions and start-ups. Despite this fluctuation, the desire to become entrepreneurs remains highest in the 18-to-34 age group.
The closure rate (people who have closed their business at least once in their lifetime) is 10% (11.9% in 2020), signifying a slight drop which could be due to the considerable support package provided by the government during the crisis.
Unsurprisingly, business owners identify labour shortage as the top impediment to growing their businesses, followed by all the health and economic-related hurdles brought on by the pandemic.
The share of organizations in danger and at risk of imminent closure doubled from 2.1% to 4.2%, and this was more evident among immigrant owners than natives.
The rate of entrepreneurs starting up in the agriculture, forestry, fishing, and hunting sectors moved from 10th place in 2019 to 4th in 2021, to settle at 8.8%.
Nearly twice as many business owners (11.2%) as individuals not involved in the entrepreneurial process (6.5%) report being neuro-atypical—living, for example, with attention deficit disorder with or without hyperactivity (ADD/ADHD), Asperger's Syndrome, etc.
Women and people with an immigrant background have nearly 2 times higher rates as compared to men and natives among new entrepreneurs.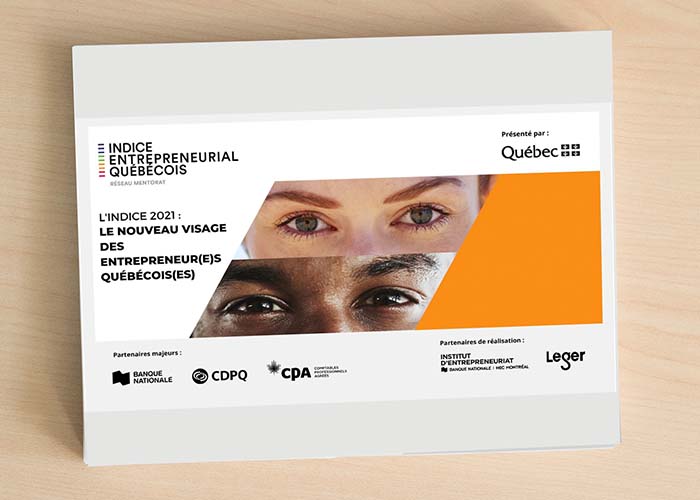 Encouraging entrepreneurial diversification
"The fact that women and immigrants have the largest representation among new entrepreneurs proves to us that we are on the right path to becoming a more diverse and inclusive ecosystem"
Moreover, several programs are already in place to encourage such diversification of entrepreneurship in Quebec, including EntrePrism HEC Montréal, which aims to support entrepreneurs from cultural communities.
It should be noted that the 2021 Quebec Entrepreneurial Index is presented by the Ministry of Economy and Innovation of Quebec as well by the National Bank, the Caisse de dépôt et placement du Québec and the Quebec CPA Order. Several other collaborating partners have overseen its implementation.
Learn more :