A prestigious award for a Tech3Lab research team
Best Paper Award at the 2021 SIGHCI Conference
January 19, 2022
A team of researchers from the HEC Montréal Tech3Lab won the Best Paper Award at the latest conference event of the Association for Information Systems Special Interest Group on Human Computer Interaction (AIS SIGHCI).
The winning paper is titled Evaluating User Experience in Multisensory Meditative Virtual Reality: A Pilot Study, and is based on research as part of a project conducted by Master of Science (MSc) – User Experience student Shady Guertin-Lahoud. Seven other members of the user experience laboratory co-authored the paper. They are:
Constantinos K. Coursaris
Jared Boasen
Théophile Demazure
Shang-Lin Chen
Nadine Dababneh
Sylvain Sénécal and
Pierre-Majorique Léger
Virtual reality
The study is one of several projects focusing on virtual reality (VR) being conducted with funding for Tech3Lab from the Natural Sciences and Engineering Research Council of Canada (NSERC).
In June 2021, study participants were exposed to VR experiences in spectacular natural settings (e.g., a desert, waterfall, jungle). Their physiological reactions were measured by a variety of instruments worn on their bodies. The subjects also had to answer questionnaires at different times during the experiment, followed by a short post-experience interview.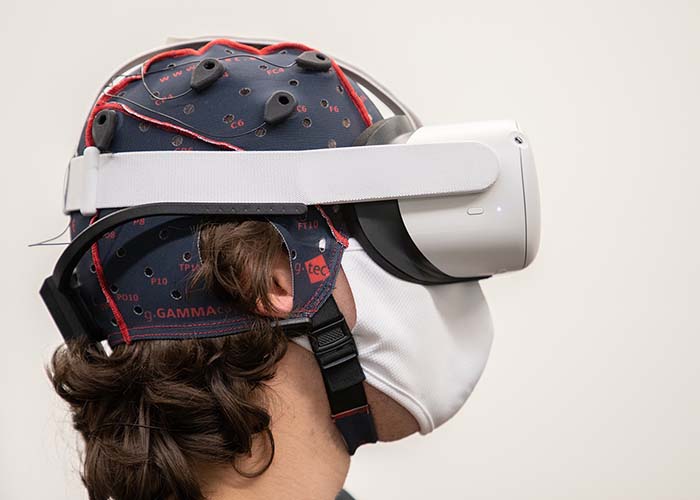 Methodological advances
The goal of the research project was firstly to demonstrate the feasibility and potential of using multiple methods to engage in a rich evaluation of user experience in a VR context. The paper showed that a combination of methods, including electrodermal analysis, electrocardiography and electroencephalography, produced quality data, highly relevant for applications and future research in this field.
This novel methodological approach will enable researchers to better understand individuals' emotional and cognitive states in VR situations. In the longer term, these projects are intended to provide guidelines for VR experience designers to help maintain users' cognitive attention and avoid cybersickness.
Enhanced experience
For instance, the study made it possible to measure whether the user's perceptions of immersion and presence, and the emotions they experienced, could be enhanced by the subject's ability to move his or her head or the addition of a narrative audio component. The results showed that participants generally had more pleasant and immersive experiences when they were free to move their heads and when there was no narration accompanying the video.
More information about the Tech3Lab
Find out about our Master of Science (MSc) – User Experience