Humanitarian Week: HEC Montréal students join forces to bring about change
Nearly $140,000 raised for the CHU Sainte-Justine Foundation
November 14, 2022
Bachelor of Business Administration (BBA) students raised $139,144 for the CHU Sainte-Justine Foundation during this year's Humanitarian Week, surpassing the record set last year and their goal of $130,000.
The virtual and in-person fundraising campaign, organized by the HEC Montréal student association (AEHEC) and the Comité sports et loisirs (CSL), ran from September 26 to October 5. Students came up with all kinds of ingenious ideas to raise the most funds: they sold doughnuts, cookies and muffins, held online pools, ran contests on social media and sought contributions from various partners. The AEHEC and CSL both provided constant support to the various groups.
"The main reason Humanitarian Week is such a success is definitely the huge participation by our student community. It's at times like these that we realize how much we can accomplish when we all work together."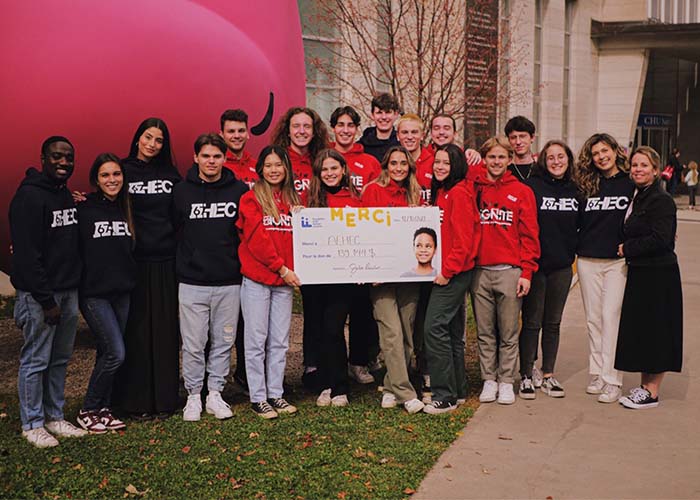 Photo: Axel Mambo
For this 1st post-pandemic edition, the organizing committee came up with a campaign to reach its ambitious goal, while fostering a real sense of commitment to the cause. The choice of the CHU Sainte-Justine Foundation inspired many members of the student community.
"It's always so touching to see that despite the competition between the different groups, they're all pulling together with such enthusiasm for the same cause."
With its 16 committees and 200 volunteers, every year the HEC Montréal student association organizes hundreds of events to offer unforgettable student experiences and the smoothest possible integration into the professional world. It works primarily to represent the 4,200 students in the BBA program and the preparatory year, both at the School and outside it, and defend their interests.
The CHU Sainte-Justine Foundation has been supporting the Sainte-Justine hospital since 1987, providing children and parents with one of the highest levels of healthcare in the world.
For more details: