The HEC Montréal delegation takes 1st place in Florida
HEAVENER INTERNATIONAL CASE COMPETITION
March 31, 2022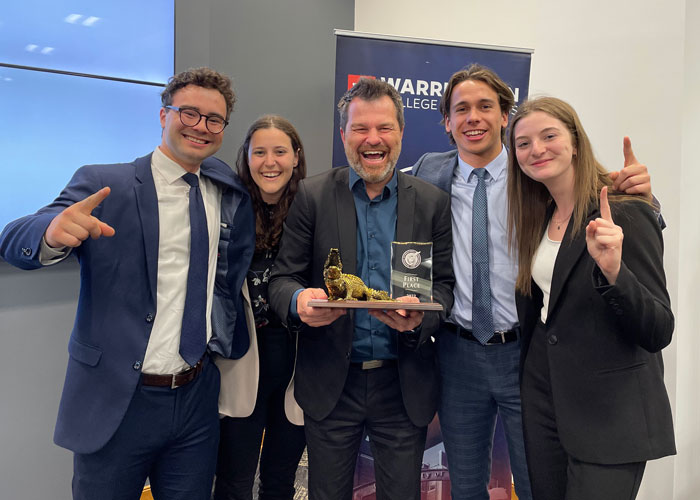 Gabriel Drapeau-Zgoralski, Cassandra Desroche, Jean-François St-Pierre, Alexis Garneau et Anne-Sophie Desforges
Bachelor's in Business Administration (BBA) students Anne-Sophie Desforges, Cassandra Desroches, Gabriel Drapeau-Zgoralski and Alexis Garneau won 1st place in the Heavener International Case Competition (HICC), held at the University of Florida from March 20 to 26.
The School's delegation outshone competitors from 13 other universities in this two-part case competition, climbing to the top of an international podium for the first time since 2017.
The teams had to solve 2 cases:
Transform the business model of Friendship Force International to boost its membership. The organization works to promote understanding between peoples and friendship through homestay journeys.
Simplify the energy transition of the oil industry in a 6-year timeframe, for the clients of Baker Hughes, an oil field services company specializing in oil drilling and chemicals used in hydraulic fracturing.
After more than 60 hours of work spread out over 5 days, the HEC Montréal team reached the finals on Saturday, facing off against Queen's and Chulalongkorn Universities. They presented their solution to the 2nd case to senior management members of Baker Hughes.
Their realistic, inexpensive and original proposal, of employing a new technology used by cryptocurrency companies and encouraging a collaborative approach in the oil industry, greatly impressed the judges.
The coach of the winning team was Jean-François St-Pierre. The University Competitions Service wishes to thank the Association des diplômés de HEC Montréal for its financial support, which contributes to the success of the School's delegations.