Gilbert Laporte receives the EURO Gold medal
July 13, 2022
Gilbert Laporte, HEC Montréal Professor Emeritus, was awarded the 2022 Euro Gold Medal by the Association of European Operational Research Societies (EURO) on July 3 in Espoo, Finland.
Considered the highest distinction in operational research in Europe, this medal was awarded to Mr. Laporte for his body of work in this field.
Throughout his career, Gilbert Laporte has used mathematics and computer science to find concrete solutions to complex management problems. He was particularly interested in the problem of seriation, the subject of his doctoral thesis. He has developed application models for rotating work schedules, transportation routes, exam schedules, stochastic programming, electoral districting, garbage collection route planning, subway system design, green transportation, etc.
"Having been able to forge collaborative links with many European researchers, I was very pleased that they wanted to highlight my contribution."
Mr. Laporte thanked his colleagues in the operations research community, which includes researchers at various levels, including 47 PhDs, 55 master's students and 32 postdocs. Author of 20 books and more than 600 scientific articles in combinatorial optimization, he highlighted his collaborations with 420 co-authors, 7 of whom are also EURO Gold Medal recipients. In particular, and he made a point of mentioning this, his colleague Pierre Hansen, full researcher in the Department of Decision Sciences at HEC Montréal.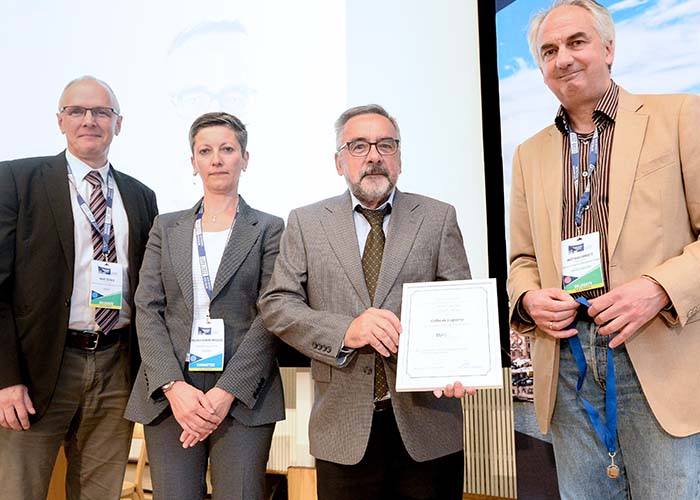 Gilbert Laporte (2nd from right), during the presentation of his award, with Marc Sevaux, Dolores Romero Morales and Matthias Ehrgott.
About Gilbert Laporte
Gilbert Laporte is celebrating his 50th career anniversary since the beginning of his doctoral studies. He holds a PhD in Operational Research from the London School of Economics (1975), he was a professor at HEC Montréal for 44 years. He directed the Canada Research Chair in Distribution Management from 2001 to 2020. The quality of his work has earned him 3 honorary doctorates.
Now retired, Dr. Laporte continues to collaborate on operations research projects with the School of Management at the University of Bath, UK, and the Molde University College, Norway.