Ann Langley awarded an honorary doctorate by Ghent University
May 2, 2022
Ann Langley, Professor emerita at HEC Montréal, was recently awarded an honorary doctorate by Ghent University, in Belgium. Professor Langley was one of 6 scientists to receive such distinctions from the prestigious Belgian university, at a ceremony in Ghent on March 18 of this year.
A video tribute put together for the occasion salutes her influence on management research and the work of several faculty members of the university. In particular, she is lauded for her support for the development of processual approaches to management research, a viewpoint for which she is recognized internationally and particularly in the European scientific community.
"I am very touched by this recognition and by the support of my colleagues in the Faculty of Economics and Business Administration of Ghent University. My special thanks to Professors Katrien Verleye and Paul Gemmel, who nominated me for this honour," said Professor Langley.
About Ann Langley
Ann Langley holds a Master's in Operational Research from the University of Lancaster and a PhD in Administration from HEC Montréal. She spent 20 years as a Professor in the School's Department of Management, and also held the Chair in Strategic Management in Pluralistic Settings from 2008 to 2021.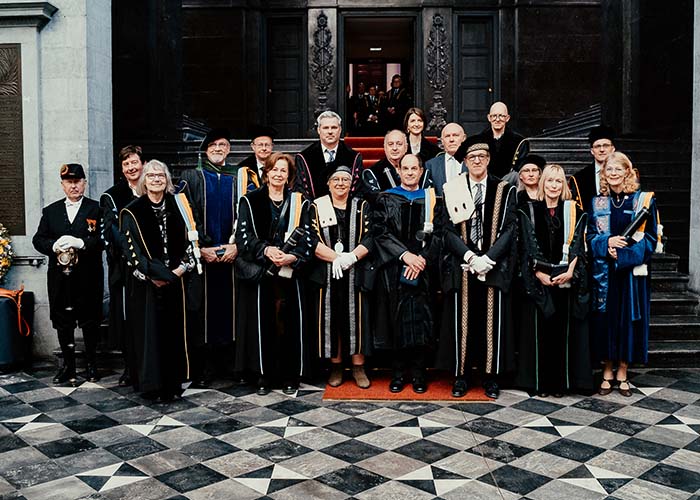 Ann Langley (1st on the left, 1st row) surrounded by other recipients and dignitaries, during the ceremony on March 18 at Ghent University.
Her research deals with strategic management processes and practices. She has conducted studies on organizational change, decision making, leadership and innovation in pluralistic settings. She is on the editorial staff of the Strategic Organization journal.
Professor Langley's work has been abundantly cited: over 28,000 times, according to Google Scholar. To date she has published 102 articles, co-edited 14 books, co-authored 49 book chapters and produced 17 papers in conference proceedings.
She has received many international distinctions over the course of her career. In addition to this honorary doctorate from Ghent University, she holds honorary degrees from the University of St. Gallen, in Switzerland, the Norwegian School of Economics, and the Aalto School of Business, in Finland.
Among the many other distinctions received by Professor Langley over the years, note:
Fellow of the Academy of the Social Sciences (2020)
Distinguished Scholar Award from the Organization and Management Theory Division of the Academy of Management (2020)
Honorary member of the European Group for Organizational Studies (2019)
Thérèse-Gouin-Décarie award from ACFAS (2018)
Fellow of the Academy of Management (2017)
Pierre Laurin Award for Research Excellence, from HEC Montréal (2014)
Fellow of the Royal Society of Canada (2010)