Victory at the Symposium GRH
November 17, 2021
The HEC Montréal delegation took first place overall at the Symposium GRH, held at the Université du Québec en Outaouais from November 12 to 14.
The human resources management (HRM) competition, attended by over 300 students, was organized by the Regroupement étudiant des facultés d'administration de l'Est du Canada, representing management students from across eastern Canada.
"This superb victory is due to the hard work of all the students in the delegation, the HEC Montréal competitions committee, the coaches and the practice judges who so generously shared their advice with the teams," says a proud Anne Bourhis, Academic Director of the University Competitions Department and Professor in the HRM Department.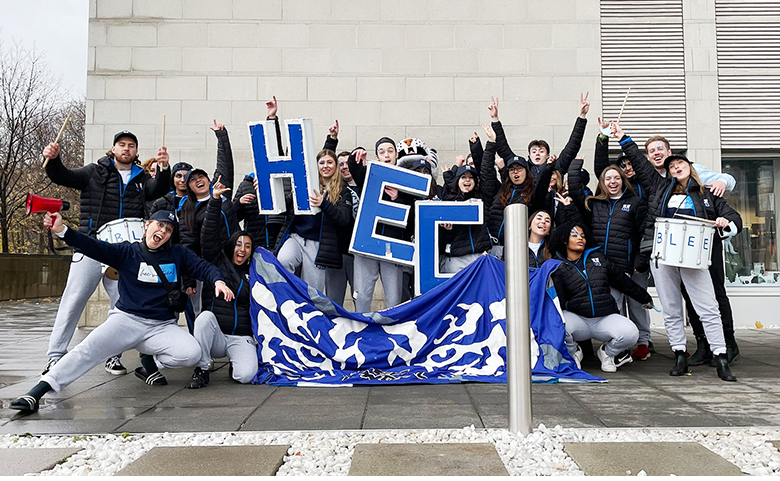 On the podium
In addition to taking 1st place for participation, the HEC Montréal students turned in particularly strong performances in a number of events:
1st place: Crisis management case; quiz
2nd place: HR mandate (surprise case)
3rd place: HR marketing case
What's more, the School's two teams faced off in the finals of the sports event, taking the top 2 places in the badminton tournament.
Members of the delegation
All in all, 24 Bachelor's in Business Administration (BBA) students from HEC Montréal took part in the competition, accompanied by 8 coaches.
Event

Members

Coaches

Crisis management case

Lise Espel

Maëlle Farley

Gabrielle Gignac

Joé T. Martineau, Professor, Department of Management

HRM case

Gabriela Cuerno

Charles Martel

Aurélie Christina Pierre

Anne Bourhis

HR mandate (surprise case)

Ann-Sophie David-Boudrias

Maëlle Farley

Olivier Koclas

Anne Bourhis

HR marketing case

Rose Brunelle

William Huard

Latifa Quraishi

Anne Bourhis

Collective agreement bargaining

Andrea Andrade Chapal

Miguel Angel Higuera Silva

Elléa Lefils

Vincent Pasquier, Professor, HRM Department

Quiz

David Casaubon

Joanie Rolland

Béatrice Rompré

Alison Lessard (HEC Montréal 2021) and Patrick Dubé, Full-time Lecturer, HRM Department

Participation

Guillaume Carré

Marie-Jeanne Cousineau

Ann-Sophie David-Boudrias

Jude Gagnon

Olivier Koclas

Victoria Allen and Justine Aubry, BBA students

Sports (badminton)

Nicolas Desbiens-Guérard

Henrik Van Der Horst

Louise Blanc

Angélie Maheux

Danny Luong, BBA student
Note that HEC Montréal teams are able to attend many university competitions thanks to the financial support of the School's alumni association.