Alumnus Rodolphe Barrere makes the cover of  Forbes
Co-founder of Potloc, a company supported by the HEC Montréal entrepreneurial hub
April 15, 2021
Rodolphe Barrere (HEC Montréal 2014) is the featured cover person for the 2021 Forbes "European Technology 30 Under 30″ list, which includes 29 other young European entrepreneurs.
Potloc, his innovative firm, was co-founded in 2014 with another HEC Montréal alumnus, Louis Delaoustre, 1st generation graduates from the Rémi Marcoux Entrepreneurial Track and the National Bank – HEC Montréal Accelerator program, 2 of the support programs offered by the HEC Montréal entrepreneurial hub.
While the initial mission of Potloc was to inject new life into vacant premises on shopping streets by seeking local residents' opinions on how to create the kind of neighbourhood they want, its concept has since evolved.
It now specializes in market research. The company founded by the School alumni conducts thousands of geo-targeted surveys across social networks to understand consumer behaviours for clients such as Decathlon, L'Oréal and Carrefour. Potloc has raised $20 million to date and now has over 80 employees, most of them at its Montréal head office, but also in Paris and New York.
"The success of these young immigrant entrepreneurs, with the support of our programs, confirms the relevance of these programs and certainly makes us very proud," says Luis Cisneros, Co-Director of the HEC Montréal entrepreneurial hub. "It is perfectly aligned with our mission of supporting and accelerating innovative organizations, so as to create economic and social value in the Quebec business ecosystem."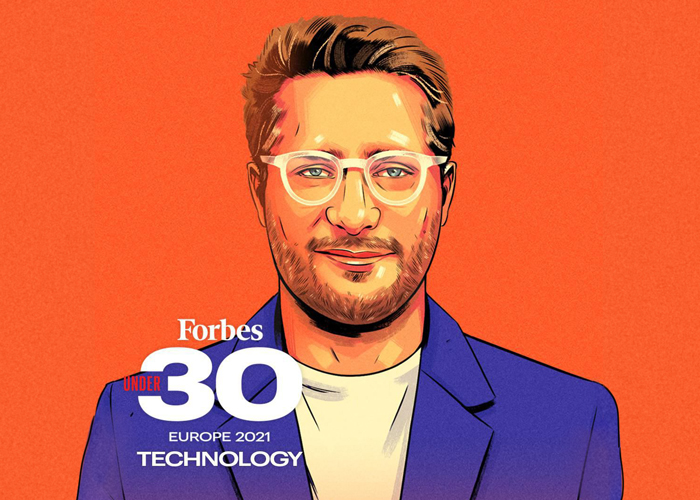 Rodolphe Barrere, as pictured on the cover of Forbes magazine.
Note that in addition to Rodolphe Barrere, Justine Hutteau (HEC Montréal 2018) appears in the Forbes list, for the French edition. She co-founded Respire, a company that makes natural hygiene products.