A record $132,000 raised for the Fondation CHU Sainte-Justine
BBA Humanitarian Week
October 20, 2021
Students in the Bachelor's in Business Administration (BBA) program raised $132,000 through a campaign to support the Fondation CHU Sainte-Justine. This is a historic record for Humanitarian Week, held every year at HEC Montréal, exceeding the previous record of $40,000 for this charitable event organized solely by the student community.
Their efforts will enable the Fondation CHU Sainte-Justine to make 26,400 lights twinkle on its huge Youth Tree of Lights, at the launch of the Foundation's major holiday fundraising campaign.
Fundraising efforts at the School were organized by the HEC Montréal student association (AEHEC) and its Comité sports et loisirs (CSL Revival). It was all done within fewer than 10 days, mainly on line, but also including 2 in-person events.
"Humanitarian Week is an opportunity to have a real impact and help many Quebec families. This year's record is a terrific achievement, one I'm proud to share with all the donors," said Jeanne Brabant, External Vice-President of CSL Revival and co-head of Humanitarian Week.
One of the reasons for this year's great success was that contributions by campaign partners almost doubled. A number of clothing companies offered a percentage of their sales during the campaign.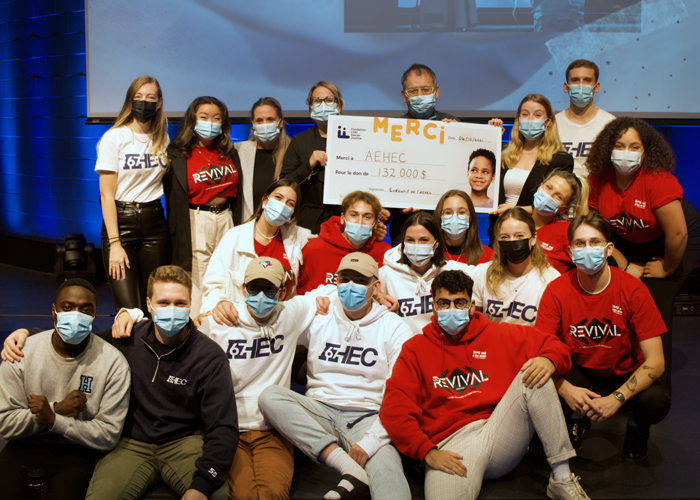 As they do every year, the teams of BBA students competed to raise the most funds. They offered a variety of fundraising activities, such as online pools, collections of donations and waste, sports tournaments, games and food sales.
The Fondation CHU Sainte-Justine has been supporting the Sainte-Justine hospital since 1987, providing children and mothers with one of the highest levels of healthcare in the world.