A BBA student shadows the President and CEO of Cascades for a day
Thao-Anne Le, winner of the CEOx1Day competition
March 2, 2020
Who wouldn't want to spend a day shadowing Mario Plourde, the President and CEO of Cascades? That's the unique experience that Thao-Anne Le enjoyed on February 18. The Bachelor's in Business Administration student was part of the CEOx1Day program, organized every year by the executive recruitment firm Odgers Berndtson.
Thao-Anne had undergone a rigorous selection process since September 2019, including psychometric tests, interviews and meetings with recruiters, leading to this ultimate reward. She was one of 19 winners across Canada, five of them in Quebec, to be twinned with the head of a leading Canadian company.
A management retreat with Cascades management
Her twinning experience took place in Drummondville, during a theme day focussing on leadership that brought together over one hundred managers of the company, which specializes in packaging and tissue products composed mainly of recycled fibres.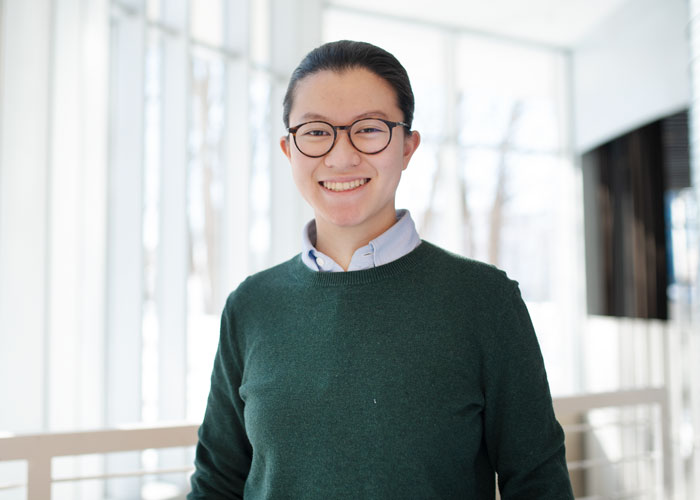 She started by meeting Mario Plourde at a one-on-one breakfast, and then accompanied him to brainstorming workshops organized for the company's managers and plant directors. In the afternoon they visited two Cascades plants in Drummondville.
Answering her questions
Thao-Anne was able to talk to the CEO about two subjects close to her heart: sustainable development and the role of women in manufacturing.
She was delighted to see the initiatives taken to reduce the company's carbon footprint and to attract more women to its workforce and Board of Directors. "He was very transparent in his answers to all my questions," she said.
Surprising qualities
"He really knows everything that's going on in his company, all the figures and the situation at each plant."
And yet, "He's really calm. It's not always the image you have of a company executive."
Advice to live by
"He told me that it's really important to surround yourself with people who complement your skills. If you have a weakness somewhere, you have to find someone who's strong in that area, and work together."