Camille Caron awarded the Next Generation Prize by the Association of Québec Women in Finance
March 25, 2020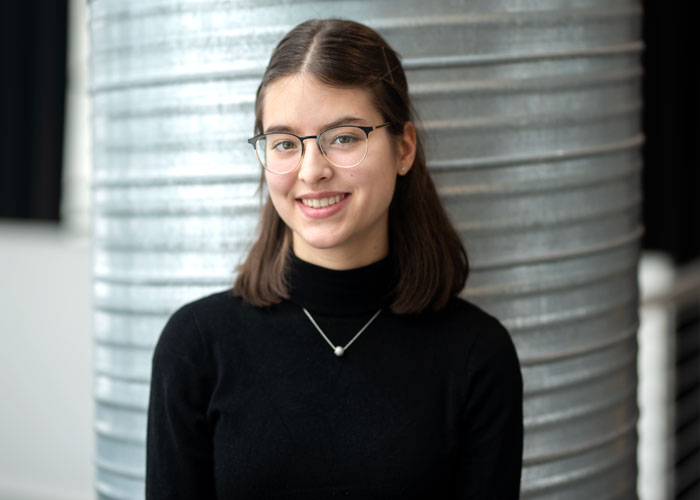 Camille Caron hated mathematics as a child, and never imagined a career in finance. Yet the soon-to-be graduate from the bachelor in business administration (BBA) program with a finance major has become a shining example of success in this field. The Association of Quebec Women in Finance (AFFQ) has selected Caron among the four winners of the 2020 Next Generation prize.
Camille Caron will be honoured by the AFFQ at the Talentueuses Annual Gala. Three Université Laval students are the other trophy winners in this category: Valérie Faucher, Alexandra Jeffrey and Adeline Teka Zatse.
The recipients of this honour are offered an internship in a financial institution. Camille may join the Desjardins team; in a position and at a time to be determined.
The young woman aspires to work in private investment, her field of choice, in which she plans to build her career. She became enamoured with this specialty and with financial analysts' work in general during a summer 2019 internship at the Caisse de dépôt et placement du Québec, her second internship at that financial institution.
Pushing past her limits
Camille credits her unflagging determination for her excellent academic results and scholarships earned.
Throughout her path, she has not only benefited from valuable support from family and teachers, but also drew on a strong character trait: the ability to forge ahead without being deterred by her limits.
In addition to her studies, Camille helps manage the HEC Student investment fund (FPHEC). She currently heads the Global Macro sector of the fund. She points out that when she was recruited to FPHEC, as a new BBA student, she had no experience as a fund manager.
"We tend to underestimate our abilities, but we need to get out and meet people, and not be afraid to apply for an internship or a position. Sometimes you think that you can't get it, but you don't know until you've tried it. And even if you don't get it, the process becomes a learning experience," she advises students who want to follow her footsteps.
Strong support to continue her studies
Caron appreciates the support that she received from HEC Montréal to overcome her challenges. The program for students with disabilities granted her the tools and working conditions she needs to realize her full potential.
Camille Caron's academic path at HEC Montréal ends this Spring, and she is eager to begin the next chapter this Fall: a Master's degree in administration with a specialization in finance at Université de Sherbrooke.
Find out more about the Association of Quebec Women in Finance