HEC Montréal on the podium at the 32ndJeux du Commerce
Second-place finish overall
January 8, 2020
The HEC Montréal delegation turned in a remarkable performance, finishing in 2nd place overall and with a grand total of 13 teams making the podium at the 32nd Jeux du commerce, held from January 2 to 5 at HEC Montréal – the very same place as the first edition of the competition, back in 1989.
A total of 1,300 participants from 13 Canadian universities took part in the different events in the academic, sports and social categories.
The School's delegation was made up of 80 students in the Bachelor's in Business Administration (BBA) program, co-ordinated by Béatrice Bernier-Roy and with Professor René Gendreau as head for the academic events.
The students were supported by a coaching team including Audrey Bond, Jérôme Brun-Picard, Stéphanie Leverdier and Jean-François St-Pierre.
The heads of the delegation thanked the hundred or so alumni professionals, professors and friends of the School who came out to support them during their preparations this fall. They also acknowledged the financial support they had received from the Association des diplômés.
Podium finishes by our delegation
ACADEMIC COMPONENT

Category

Place

Accounting

1st

Debating

3rd

Information Technologies

2nd

Interactive Case

2nd

Logistics and Operations Management

3rd

Marketing

2nd

Strategy

1st

Surprise Case

2nd

Sustainable Development

3rd

Taxation

1st

Academic Cup (overall score for this component)

2nd
SPORTs component

Category

Place

Fistball

1st

Ball Hockey

2nd

Sports Cup (overall score for this component)

1st
Social component

Category

Place

Participation

2nd
Delegation members, by discipline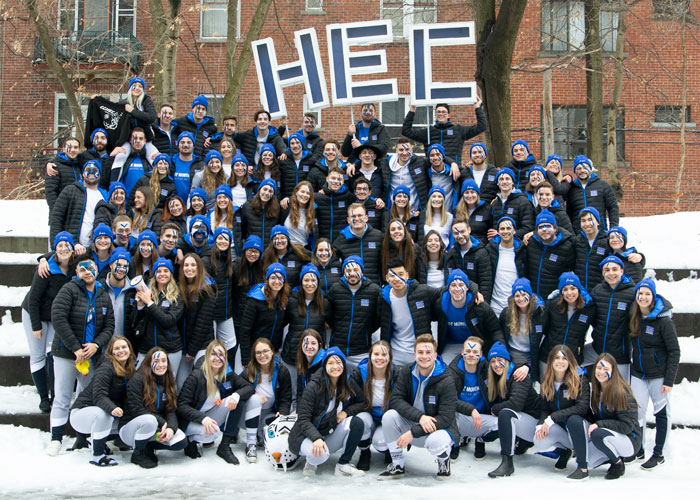 Photo: Comité compétitions HEC Montréal (CCHEC)
Accounting: Étienne Fournier, Amélie Dussault, Camille Lavictoire-Boulianne. Coaches: Ludovic Coderre, Sébastien Chung, François D'Anjou and Sonia Molleyres.
Ball Hockey: Olivier Koclas, Raphaëlle St-Pierre, Marie-Ève Vaudrin, Laurance Ste-Marie, Dominic L'Abbé, Maxence Vylita, Nicolas Paquin, Vincent Rousseau, Charles Etienne Theriault. Coaches : Étienne Comeau-Héon and Mathieu Maréchal.
Debating: Brendan Peddar, Laurie-Anne St-Pierre, Laurence Fafard, Mathieu Vendette. Coaches: Jérôme Brun-Picard and Céline Gemmel.
Entrepreneurship: Isabelle Bibeau, Frédérique Asselin, Patricia Levesque. Coaches: Layla Faidous and Jean-François St-Pierre.
Finance: Claudie Lachapelle, Timothé Després, Georges-William Croft-LeBel. Coach: Jacques Lemay.
Fistball: Thierry Deschamps, Antoine Vézina, Justine Durand-Tremblay, Pauline Urbanski, Kevin St-Arnaud, Danyk Diotte, Dominique Nadeau, Nicolas Giguère, Sarah Nadeau.
Coach : Oumaima Tahiri.
HRM: Ania Boumrar, Samuel Sauvageau. Coach: Patrick Dubé.
Information Technologies: Carla Boumenir, Maryse Picard, Sergiu Gheti. Coach: Marie-Claude Trudel.
Interactive Case: Léah Bardo, Pablo Segura, Jeanne, Boilard, Nicolas Richard. Coaches: Hélène Vallières and Jean-François St-Pierre.
International Business: Célestin Domart, Charles Leblanc, Valérie Tremblay. Coaches: Jahan-Ara Peerally and Yihan Wang.
Logistics and Operations Management: Valérie Lortie, Klaudiane Provost, Mahdi El Yamani Ilyass. Coach: Valérie Bélanger.
Marketing: Élizabeth Fontaine, Mélanie Banville, Tristan Rochette. Coach: René Gendreau.
Participation: Arianne Dubé, William Huard, William Roch, Joanie Rolland, Alyson Guy, Andrei Oniga, Alison Lessard, George Nguyen, Kevin Nicholls, Anne-Sophie Lachapelle, Alexia Ferland, Gabrielle Carignan, Alexandra-Cristina Szakacs, Adriana Marquis-Duzink, Charlotte Di Croce, Béatrice Bernier-Roy et Jérémie Gagnon.
Social: Benjamin Brodeur, Alice Bonnici. Gabriel Dasté, Raphaëlle Bolduc. Coach: Marc-André Côté.
Strategy: Simon Cote-Senay, Zoé Saive, John-Nathan Chung. Coaches: Clément Leclerc and Benoit Comeau.
Surprise Case: Tristan Rochette, Alexia Fillion-Lauzon, Timothé Després. Coaches: Audrey Bond and René Gendreau.
Sustainable Development: Alexia Fillion Lauzon, Charles Langevin, Pascale Laframboise. Coach: Stéphanie Leverdier.
Taxation: Anthony Provencher, Simon Vallières, Marjorie Touchette. Coach: Alex Berthiaume.
Delegation sponsors: Thuy-Anh Phan and Nathan Ward-Raymond.