Victory in the KPMG business strategy case competition
April 4, 2019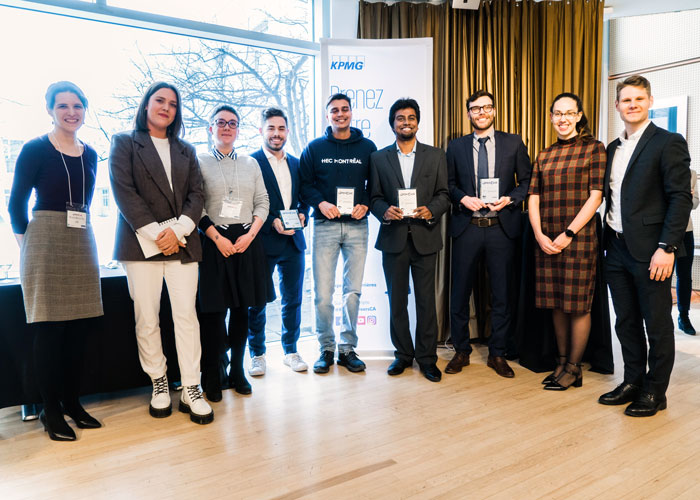 Mireille Mercier-Roy, Lecturer at HEC Montréal; Laurence Guimond and Pauline Laurent from the company featured in the case; MBA students Jonathan Wade, Deep Doshi, Avinnash Ravindran and Benoit Giroussens; Patricia Boisclair and Christophe Lussier from KPMG.
MBA students Deep Doshi, Benoit Giroussens, Avinnash Ravindran and Jonathan Wade took first place in the Open Case 2019 competition, held at the School from March 13 to 15.
The business strategy competition, now in its sixth year, was organized by the School's Club de consultation en management (CCM) in co-operation with KPMG, and brought together teams from HEC Montréal, Polytechnique Montréal and McGill.
The idea is to give participants a taste of the strategic consultant's life. This year, their mandate was to create and implement a customer loyalty program for a company in the retail market, in order to boost its sales. They had 24 hours to prepare their proposal and present it to this company's executives, representatives of KPMG and a HEC Montréal lecturer.
The winning solution
The winning team came up with an application including a self-financing program, in which revenues exceeding the target would be reinvested to pay for points, gifts and events.
To promote the app Quebec-wide, the four HEC Montréal students suggested partnerships with actual brands, two-thirds of them local. The team used only 80% of its initial budget, keeping some back for national promotion if it proved successful or to limit losses otherwise.
The jury was impressed with their in-depth analysis, their carefully planned finances and their original, practical ideas.
Note that the winning team was coached by Lecturer Sylvain Matte.