Support for talented female students who choose Finance
AFFQ Relève award
May 14, 2019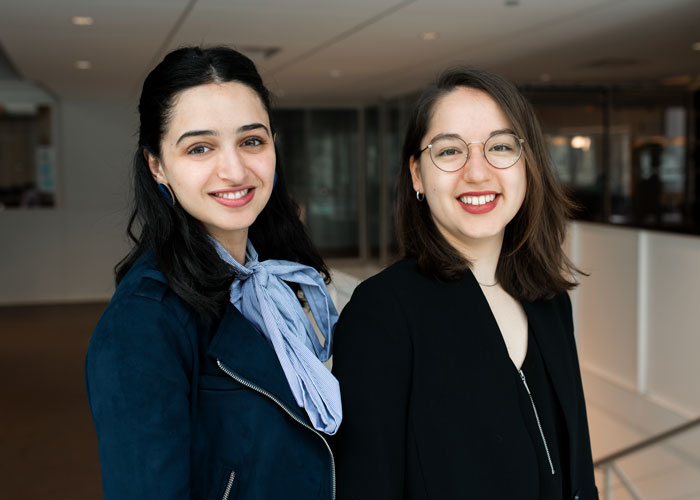 Lamiae Senhaji and Juliette Durand.
They are efficient, hard-working and ambitious … and their efforts are paying off! Juliette Durand and Lamiae Senhaji, HEC Montréal students specializing in Finance, were winners at the 14th Les Talentueuses Gala on April 18. They each took home one of this year's four Relève awards presented by the Association of Quebec Women in Finance (AFFQ).
One of the goals of the Gala is to highlight women's contribution in a field that is still dominated by men. In addition to the Relève awards, the event is an opportunity to salute a number of successful Quebec businesswomen. Note that in addition to the School's award winners, students Maude Archambault from Bishop's University and Mélanie Michaud from Université Laval were also honoured.
The Relève award winners are chosen on the basis of their academic records, from a list of candidates recommended by their educational institution. The selection committee looks for excellent grades, other achievements, and leadership skills. Winners receive an internship at a Quebec financial institution.
Juliette will be working in treasury management at Desjardins for three months, while Lamiae will start a four-month internship with the transactional analysis team at the Caisse de dépôt et placement du Québec in September.
Musical discipline and a love of numbers
Juliette will be graduating with a Bachelor's in Business Administration (BBA) this spring 2019, with well above-average grades. She also won three scholarships during her BBA studies. In addition, she not only specializes in Finance and Marketing but also continues to take violin lessons and practises up to two hours a day, as well as playing in several youth orchestras.
"I wanted to do a BBA to be able to work in administration in the cultural field. I've always liked math, and my first Finance course at HEC convinced me to choose that specialization," she explains.
She is very excited about her internship, as it will allow her to apply much of what she has learned during her studies.
Her ultimate goal is still to combine her love of finance and music. "I'd like to be Director of Finance or Executive Director of a major orchestra, like the Montreal Symphony Orchestra," she says.
Getting out of her comfort zone
Lamiae will be completing a Master's (MSc) in Finance this year. She can recall a turning point in her studies, when she met Angela D'Angelo, Vice-President with National Bank Financial, at a twinning event for students and professional women in finance. D'Angelo became her mentor and later offered her an internship in wealth management.
The solidarity and support from another woman with more experience in this field were decisive for her: "My mentor pushed me to network, to get out of my comfort zone. (…) I really felt different after my internship. I was ready to take on new challenges with more confidence," Lamiae says.
As a result, she started her MSc studies with the goal of becoming more involved outside the classroom, while continuing to work part-time. She joined various student associations and took part in some international student competitions. She still had time to earn outstanding grades, though, and even won four scholarships totalling $31,000.