L'Oréal Brandstorm: 3rd place for the HEC Montréal delegation
March 13, 2019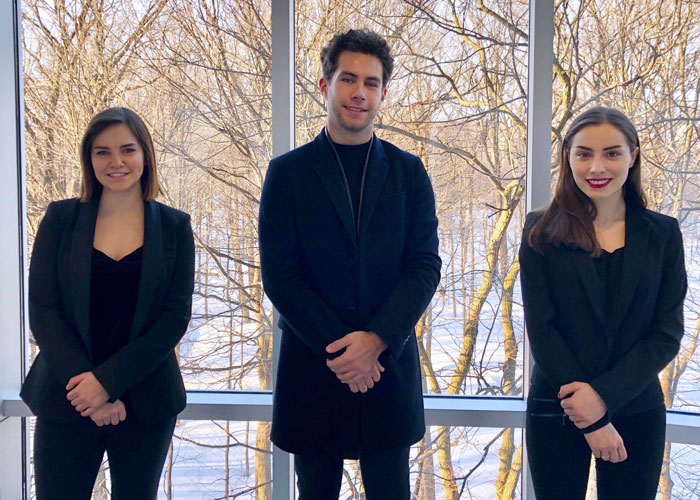 Maude Carluer, Jean-Charles Schiavon and Julia Butin.
The HEC Montréal team took 3rd place in the Canadian finals of the L'Oréal Brandstorm brand management simulation. The team members were final-year BBA students Julia Butin and Maude Carluer and Master of Science (MSc) student and BBA graduate Jean-Charles Schiavon.
This year, students from around the globe were invited to imagine the future of skincare. For four months, they played the role of a marketing manager and worked with L'Oréal executives. The School's delegation attracted the jury's attention with their Skinnovation innovation.
"It's an app that makes a very accurate and complete skin diagnosis in order to recommend the products that best suit each person's skin," the three members of the HEC Montréal team explain. "Skinnovation uses 3D face recognition to detect visible imperfections and a reusable patch to measure hydration levels. We also added a social dimension: the patch costs $1, a nominal amount that goes directly to the Save Your Skin Foundation, dedicating to fighting skin cancer."
The three team members consider that their complementarity helped them stand out in the simulation: "All three of us are enrolled in different specializations: Maude, in digital innovation and marketing, Julia, in business intelligence, and Jean-Charles, in finance and strategy. Our different profiles allowed us to pool our strengths and come up with a relevant and innovative project."
The HEC Montréal team was coached by guest Professor René Gendreau and supported by Jean-François St-Pierre, Director – Relations with the Student Community, Student Services.