HEC Montréal victorious at the 2019 Jeux du commerce
January 9, 2019
The HEC Montréal delegation achieved a clear victory at the 2019 Jeux du commerce, held from January 3 to 6 on the Lévis campus of the Université du Québec à Rimouski (UQAR).
This was the 13th time in 31 years that the School has emerged on top overall in the Jeux du commerce, once again taking the Patrice-Bourbonnais trophy.
The interuniversity competition brought together 1,200 participants from 13 universities in Quebec, Ontario and New Brunswick. The School's delegation was made up of 84 students in the Bachelor's in Business Administration (BBA) program, co-ordinated by Mika Beauchamp and with Professor René Gendreau as head for the academic events.
The students were supported by a coaching team including Anne Bourhis, Jérôme Brun-Picard, René Gendreau, Stéphanie Leverdier, Jean-François St-Pierre and Anne-Frédérique Tremblay.
The heads of the delegation thanked the hundred or so alumni professionals, professors and friends of the School who came out to support them during their preparations this fall. They also thanked the Leadership Fund and the Association des diplômés for their financial support.
Podium finishes by our delegation
academic component

Category

Place

Accounting

2nd

Debating

1st

Sustainable Development

1st

Finance

3rd

Logistics and Operations Management

1st

Human Resources Management

(HRM)

1st

Entrepreneurship

1st

Academic Cup (overall score for this

component)

1st
SPORT component

Category

Place

Ultimate Frisbee

1st

Sports Cup (overall score for this component)

3rd
SOCIAL component

Category

Place

Participation

2nd

Social

3rd

Engagement Cup (overall score for this

component)

2nd
Delegation members, by discipline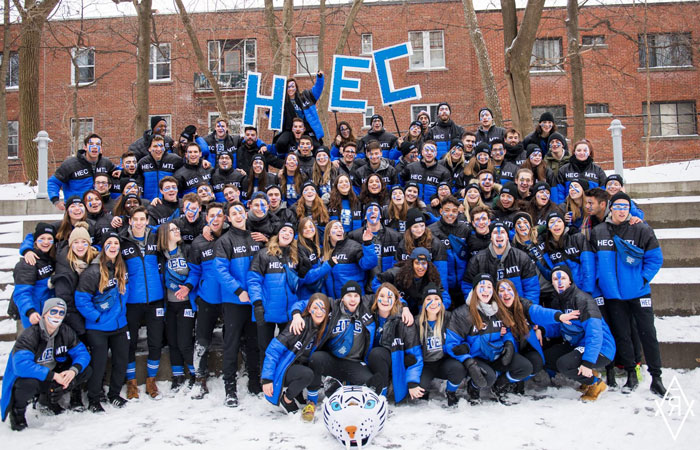 Photo : Association Radio Vidéo
Interactive Case: Pierre Monin, Olivier Camirand, Julien Galisson, Mathis Vuillermin. Coaches: Aurélie Michaud and Jean-François St-Pierre.
International Business: Laurence Beaupré, Daphnée Rodier-Tremblay, Stéphanie Rondeau. Coaches: Anne-Frédérique Tremblay, Ekaterina Turkina, Yves Plourde, Thierry Warin, David Pastoriza-Rivas.
Accounting: Sébastien Chung, François D'Anjou, Sonia Molleyres. Coach: Ludovic Coderre.
Debating: Élodie Lussier-Piché, Célia Barbotte, Hugo Desharnais-Préfontaine, Jean-François Pigeon. Coaches: Anne Bourhis, Benjamin Goldfarb and Jérôme Brun-Picard.
Sustainable Development: Simon Clerc, Florence Normandin, Eve-Lyne Girard. Coach: Stéphanie Leverdier.
Finance: Benjamin Elemond, Gabriel Hamelin, Alexandre Minville. Coach: Jacques Lemay.
Taxation: Alexia Audet, Marika Dupont, Vincent Le Floc'h-Pagé. Coaches: Alex Berthiaume and Mathieu Joubert.
Logistics and Operations Management: Amélie Théorêt, Noémie Villiard, Vincent Collard-Tremblay. Coach: Julie Paquette.
HRM: Alex Hazan, Charles Gagnon, Anne-Marie Jean. Coach: Patrick Dubé.
Entrepreneurship: Leina Diaw, Camille Lavictoire-Boulianne, Archibald Arveiller. Coaches: Layla Faidous and Jean-François St-Pierre.
Marketing: Delphine Dagenais, Safia Lukawecki, Marianne Gélinas. Coach: René Gendreau.
Participation: Léah Bardo, Nathan Ward-Raymond, Benjamin Semujanga, Elizabeth Teasdale, Élizabeth Fontaine, Arianne Dubé, Jérémie Gagnon, Marissa Bearzatto, Gabrielle Matte, Natasha Séguin, William Brunet-Fontaine, Béatrice Bernier-Roy, Karl-Éric Pilon, Miriam Houle-LaBelle, Jade Magdelaine, Maude Lacoursiere, Ian Perreault, Anaïs Boisvert.
Strategy: Samuel Ferreira-Silva, Norman Bloch, Étienne Gauthier. Coach: Élizabeth Taylor.
Social: Marc-André Côté, Felipe Gomez, Ève Marchildon, Catherine Bédard. Coach: François-Nicolas Dolan.
Information Technologies: André Dasté, Jessica Léonard, Joliann Morissette. Coach: Marie-Claude Trudel.
Ultimate Frisbee: Philippe Lachance, Philippe Charest, Léon Virfollet, Antoine Vézina, Antoine Fortier, Jean-Sébastien Normandeau, Virginie Parent, Marie-Christine Joly, Arielle Paquette. Coaches: Jérémy Chiniara and Thomas Duplaix.
Ultimate Soccer: Marc-Antoine Pedneault, Massimo Roch-Gagnon, Thibault Delorme, Baptiste Dubois, Manuel Boismenu, Raphaelle St-Pierre, Pauline Urbanski, Éléonore Trahan, Thomas Mutin. Coaches: Laura Corriveau and Pascal Pelletier.
Delegation sponsors (Recognition Award): Marie-Frédérique Boucher and Sarah Nadeau.