HEC Montreal celebrates its graduates
Master's level, DESS and Certificate
November 28, 2019
The School held two convocation ceremonies on November 25 and 26 at Montreal's Théâtre Maisonneuve at Place des Arts.
The first ceremony recognized the achievements of 1,239 graduate students. It was attended by 442 by graduates of the Specialized Graduate Diploma (DESS), MBA Master of Science (MSc), Professional Master and Master of Management in International Arts Management (MMIAM) programs, in addition to the graduates' guests.
On the evening of the 26th, the School celebrated its certificate program graduates, of whom 1,669 received a certificate this year and 156 more completed a baccalauréat en gestion (B. Gest) through a combination of certificates. The ceremony was attended by 446 graduates along with their guests, many of whom were family.
Both convocation ceremonies were hosted by Secretary General Johanne Turbide.
The complete videos are available on YouTube.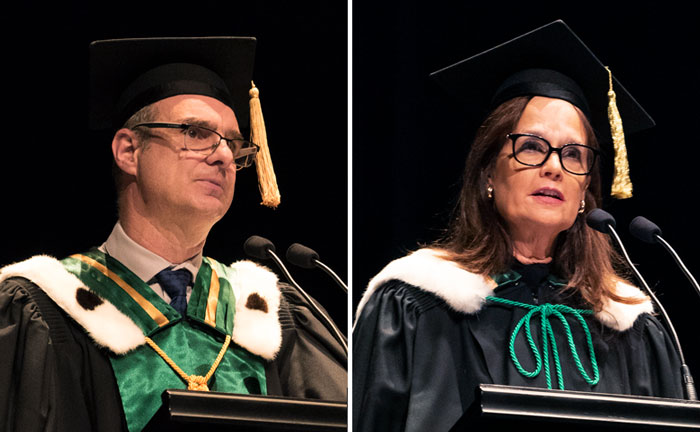 HEC Montreal Board of Director Chair Hélène Desmarais and School Director Federico Pasin were among the dignitaries present at the ceremony on November 25th.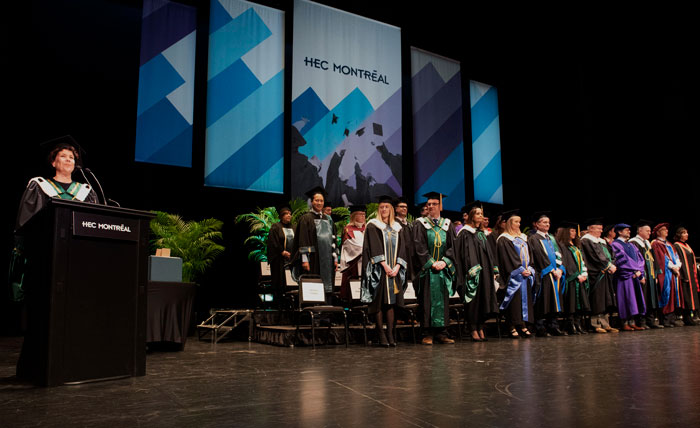 The master of ceremony, Secretary General Johanne Turbide with representatives of the faculty of the School, on November 26th.
The complete videos are available on YouTube.
Watch the November 25th ceremony