HEC Montréal Delegation Wins International Finance Contest
Third annual McGill Investment Portfolio Challenge
December 6, 2019
Students Jaime Casigay, Olivier Chainé, Samuel Vallée (maîtrise en gestion [MSc] – ingénierie financière) and Philippe Vézina-Tardif (Bachelor in Business Administration [BBA]) won first place in the McGill Investment Portfolio Challenge (MIPC) on November 9, 2019. They were awarded $25,000 for their victory in this international competition. Samuel Vallée was also named one of the five best speakers.
This year's theme was long-term environmental sustainability in buy-side finance. The contest was divided into two rounds. HEC Montréal's delegation was one of 25 teams selected for the second round, out of more than 100 teams from across the globe who had taken part in the first round.
The teams were tasked with developing an investment policy for a pension fund. Trained by full-time lecturer Jean-Philippe Tarte, the School's delegation demonstrated a high level of expertise by proposing a strategic asset allocation that balanced environmental, social and governance issues (ESG) and competing interests among investors, and that also met return and diversification requirements in order to cover the fund's commitments and bonds.
Note that the four members of the winning team belong to one of the two existing student investment funds at the School: the BNI - HEC Montréal Fund and the HEC Student Investment Fund (FPHEC).
In 2017, a team from the School also took first place in the first edition of the contest.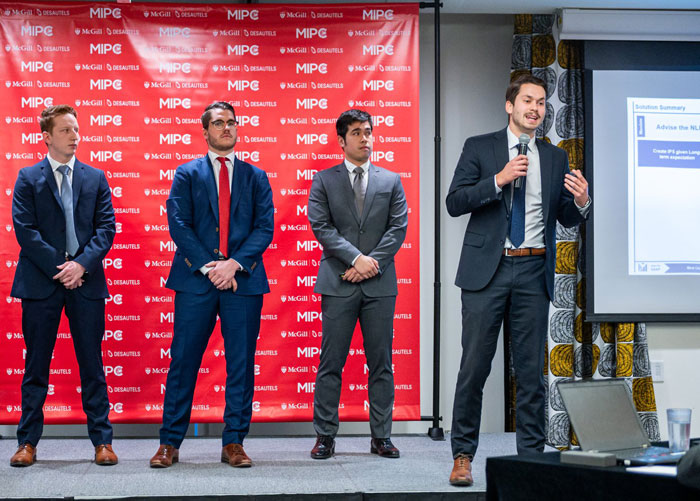 Olivier Chainé, Samuel Vallée, Jaime Casigay and Philippe Vézina-Tardif.